Find out more about WMV-to-MP3 conversion below:
HOW TO CONVERT WMV FILE TO MP3 ONLINE?
WMV (or Windows Media Video) is one of the most widely used formats for storing video files on Windows. The WMV format itself is a pack of codecs and coding formats for video. WMV files generally use the ASF container and have the .wmv extension. Sometimes you might want to extract a soundtrack from a favorite clip or movie that was saved as a WMV file. In this case, you might find it useful to use an audio extractor that can encode the resulting file into a format that is more popular than WMV or its 'audio brother' WMA, for example, MP3.
There's no need to download anything: try this online WMV-to-MP3 converter for free! It is good for converting video and audio files and very easy to master. Here's how to transform your videos into audios.
Add your WMV file from your computer, Dropbox, or Google Drive.
Choose MP3 as the target format. Use the enhanced settings to fix quality and more.
Click the Convert button.
Your file is too large or you need to handle multiple files at once? See other options we offer!
ONLINE CONVERTER VS. DESKTOP CONVERTER
No charge
Limited file size
40+ input and output media formats
Online Converter – Subscription
Daily or monthly payments
Larger file size
40+ input and output media formats
Online storage
Free trial
Unlimited file size
Batch conversion
180+ input and output media formats
It is very handy to be able to use a WMV-to-MP3 converter online when you only have one file to convert. Changing multiple files needs a different approach. Choose our SuperSpeed software! The SuperSpeed Video Converter can easily process many files at once, regardless of size. The program is available for Windows and Mac OS X, and extracting audio with the Superspeed software takes only a few clicks. Here's how to convert WMV to MP3 using this converter.
Step 1.

Install the Software

Download SuperSpeed Video Converter for your operating system and launch the file. Follow the on-screen instructions to install the program, then launch it.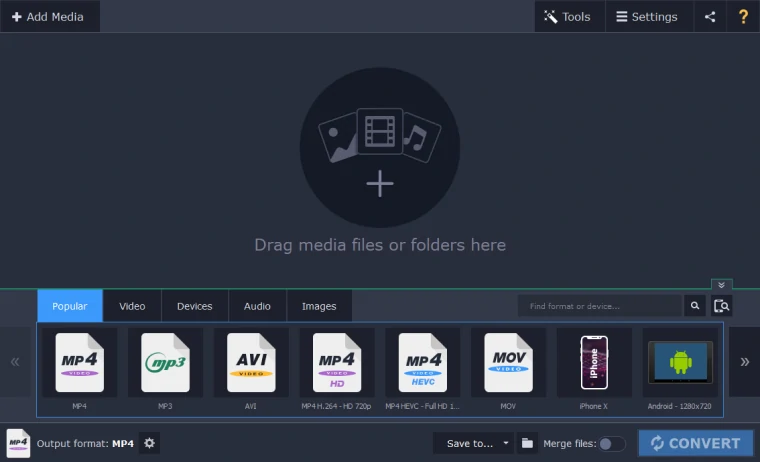 Step 2.

Add Your Files to the Program

Open the folder that contains your WMV files. Select all the videos you want to process and drag them into the converter's main window. Alternatively, click Add Media, then Add Video, find the folder you need, select your files, and hit Open.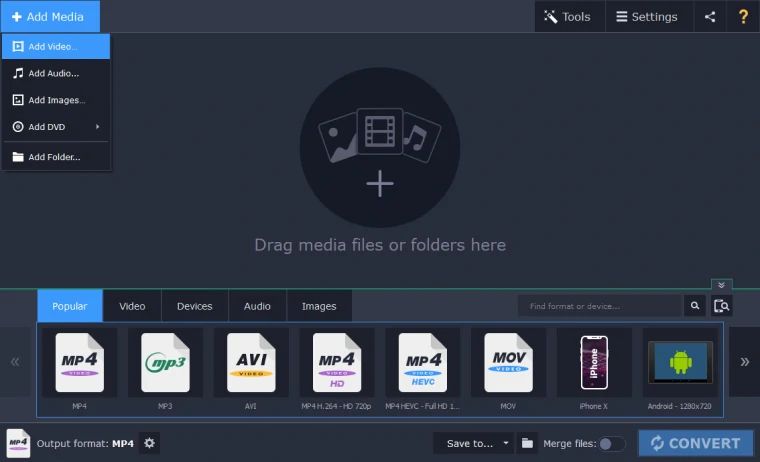 Step 3.

Select MP3 as the Output Format

Go to the Audio tab and click the square with MP3 on it. Choose a preset from the options list, e.g., Original Bitrate. Now your videos are ready for soundtrack extraction.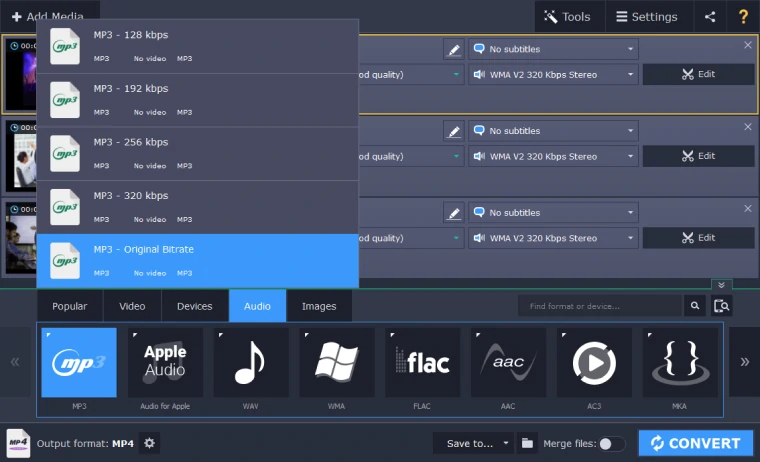 Step 4.

Convert from WMV to MP3

By default, your resulting audios will be stored in the Movavi Library folder. To change this destination, click the Folder button and define where to save your files. All the preparations are now done, so click Convert. After the conversion is complete, the folder containing the MP3 files will open automatically. Enjoy your soundtracks on any device!