Read our guide below and learn how to convert WMV files to AVI format:
How to Convert from WMV to AVI Online?
AVI is one of the most popular and universally used formats. Many users save their videos and movies as AVI files, as most media players for both Mac and Windows support this format. That's why, if you have a WMV file that won't open on your Mac or smartphone, it's better to transcode it to AVI.
The easiest way to convert a small video that's less than 100 MB is with an online video converter. The fast service will help you change the format of your files easily. So, if you're looking for simple conversion freeware, this WMV-to-AVI converter that's free will be handy to have.
To convert WMV to AVI online, simply follow these three steps:
Add your WMV file from your computer, Dropbox, or Google Drive.
Choose AVI as the target format. Use the enhanced settings to fix quality and more.
Click the Convert button.
Your file is too large or you need to handle multiple files at once? See other options we offer!
ONLINE CONVERTER VS. DESKTOP CONVERTER
No charge
Limited file size
40+ input and output media formats
Online Converter – Subscription
Daily or monthly payments
Larger file size
40+ input and output media formats
Online storage
Free trial
Unlimited file size
Batch conversion
180+ input and output media formats
Our online converting program supports uploading files of 100 MB or less. So, if your videos are larger, you won't be able to convert WMV to AVI online. In this instance, a good desktop conversion program will come in handy.
One of the best ways to convert files over 100 MB or batches of videos is to use a reliable desktop app, for instance, SuperSpeed Video Converter. This powerful yet user-friendly program is specifically designed for those with little or no experience with the conversion process. At the same time, it offers a wide range of features, including conversion from WMV to AVI.
Download the software and follow our short guide below to easily convert WMV to AVI.
Step 1.

Install SuperSpeed Video Converter

To install the converter, open the downloaded file and follow the on-screen instructions. Once the program is installed, launch it by double-clicking the icon on your desktop.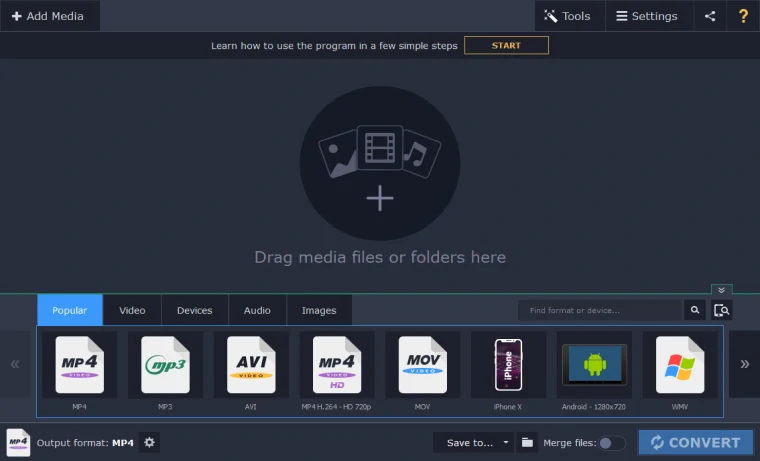 Step 2.

Add the WMV File

Import your WMV file into the program: press the Add Media button and then choose the Add Video option. Or just drag the file from the folder it's located in and drop it into the program. With SuperSpeed Video Converter, you can convert files of any size. There's no limit, so you can work with really big files.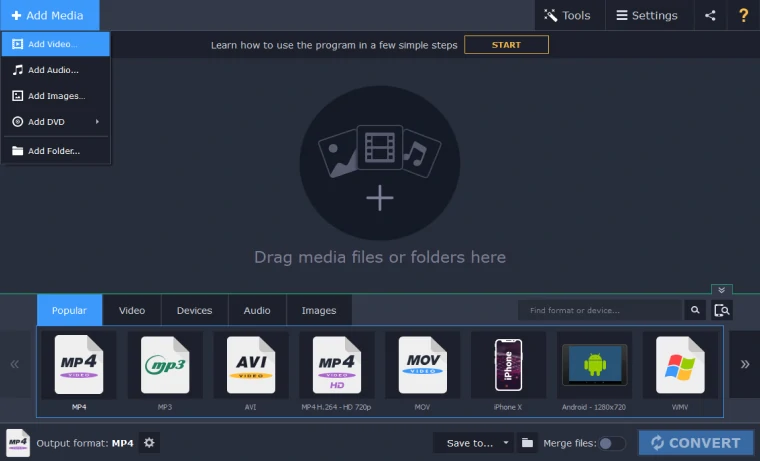 Step 3.

Select AVI as the Target Format

In the lower part of the screen, click the Video tab and choose the AVI group of presets. Find the most suitable preset for your needs and select it.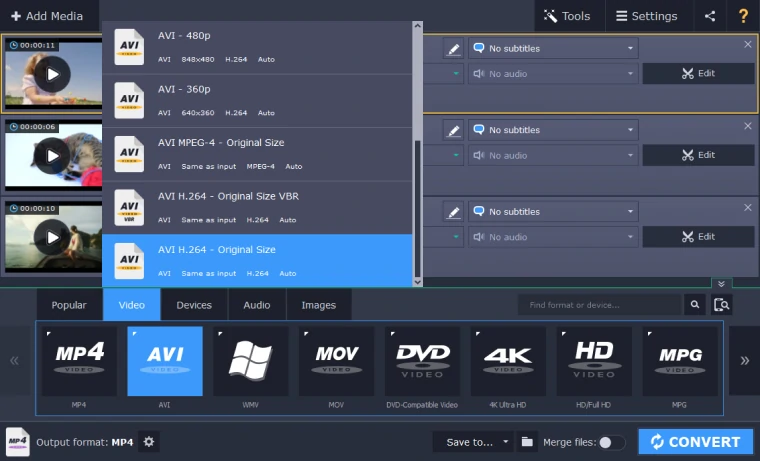 Step 4.

Start the WMV-to-AVI Conversion

Choose the export folder for your videos by clicking the Folder icon. Then hit the Convert button. When the conversion is complete, the folder containing the new file will open automatically.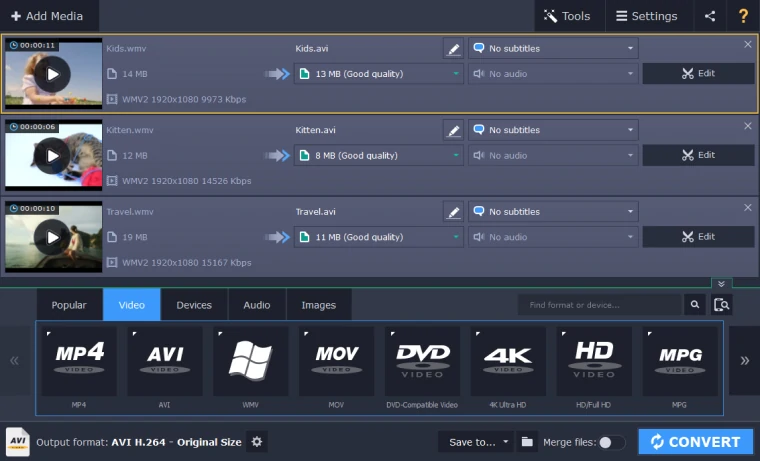 SuperSpeed Video Converter is a powerful tool with an intuitive interface for converting your videos. You can use it to change formats for video, audio, and image files, shrink large uncompressed videos without loss of quality, and turn your video files into audios or videos into GIFs. Download the program for Mac or Windows and start working with your media files right away!