Find out more about WMA-to-MP3 conversion below:
HOW TO CONVERT WMA TO MP3 ONLINE?
The WMA format was introduced in 1999. The codecs used to encode and decode WMA can be lossy or lossless. Microsoft wanted WMA to become an alternative for MP3, which has been widely used since 1993, but didn't succeed – MP3 is still the most popular format for audio files. Soundtracks in MP3 can be played on Windows and Mac OS X, and almost every device supports MP3. If you only have Windows computers, you can stay with WMA, but today most people have multiple devices, switching from one to another. So, MP3 seems much more useful, because you don't need to transform your music every time you want to listen to it.
So, if some of your favorite songs are WMA files, think about converting them to MP3! In this example, you'll be able to transfer your collection to any device or store it in the cloud and access your files whenever you want without any need for changing them. Try this free WMA-to-MP3 converter: it can convert WMA to MP3 online so you don't need to download any risky freeware or shareware. Here's how to make the conversion.
Add your WMA file from your computer, Dropbox, or Google Drive.
Choose MP3 as the target format. Use the enhanced settings to fix quality and more.
Click the Convert button.
Your file is too large or you need to handle multiple files at once? See other options we offer!
ONLINE CONVERTER VS. DESKTOP CONVERTER
No charge
Limited file size
40+ input and output media formats
Online Converter – Subscription
Daily or monthly payments
Larger file size
40+ input and output media formats
Online storage
Free trial
Unlimited file size
Batch conversion
180+ input and output media formats
Of course, online conversion is an easy way to turn single files from WMA to MP3, but if you have a batch of large files, it would be better to convert them using a desktop program. SuperSpeed Video Converter is safe and quick, it can perform mass conversions, and works on PCs with Windows and Macs with OS X. Here's how to convert WMA to MP3 using this software.
Step 1.

Install the Program

Download the installation package and complete the installation process following the on-screen instructions. Run SuperSpeed Video Converter.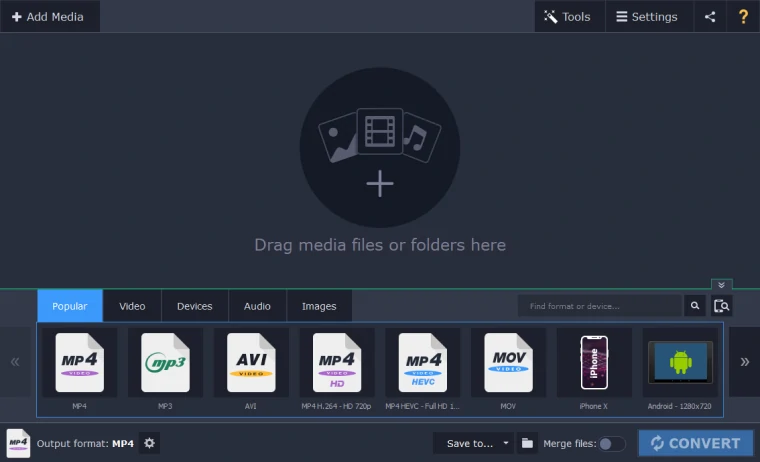 Step 2.

Add Your Files

Select and drag the files you want to change into the program window. Another way is to click Add Media, choose Add Audio, select the files, and hit Open. The list of selected files will appear in the program.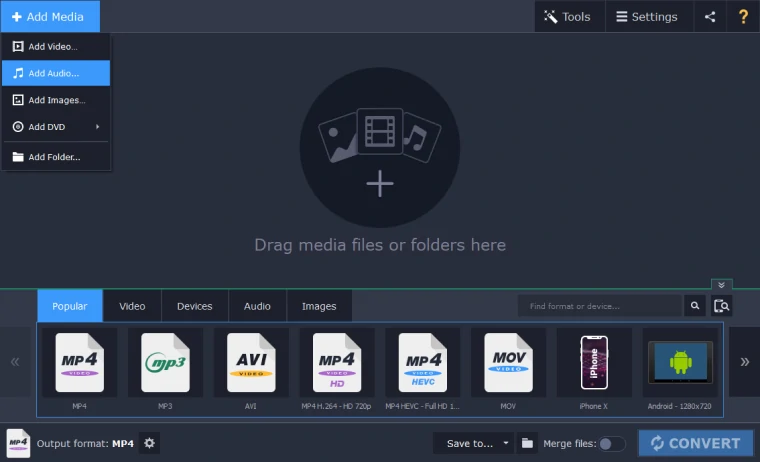 Step 3.

Select MP3 as the Resulting Format

Go to the Audio tab under the file list and open the MP3 group of presets. Choose the preset you like most (for example, MP3 – Original Bitrate). If you want your files to be joined together, turn the Merge files switch on.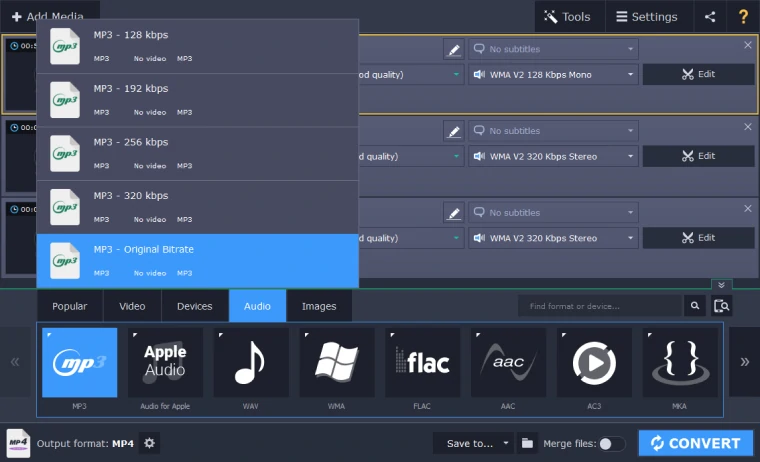 Step 4.

Reformat Files from WMA to MP3

Choose the output folder where your files will be saved by clicking the Folder icon. Hit Convert to start transferring the audio files. Soon, your files will be ready for use on any device.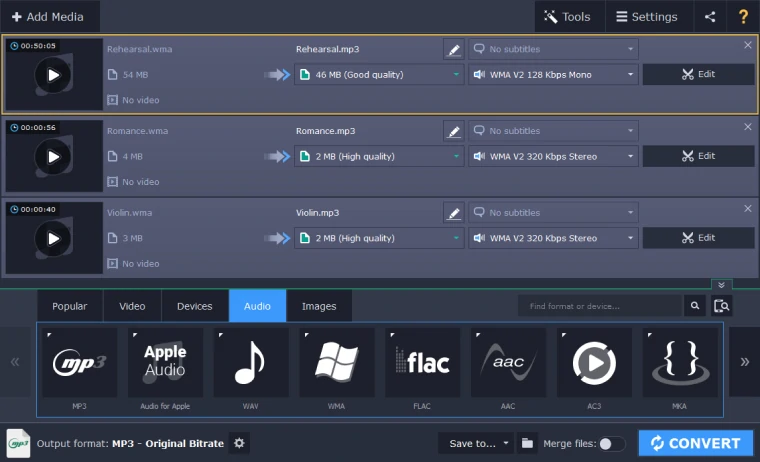 So, there are two approaches you can use to convert your files: choose which is the easiest and best way for you. Note that SuperSpeed Video Converter can also process video and image files in bulk, rip your DVDs, rotate clips, add video effects, and a whole more. Just give it a try!