Find out more about WebM-to-AVI conversion below:
HOW TO CONVERT WEBM FORMAT TO AVI ONLINE?
The WebM format offers high quality with a small file size, which makes it a desirable format. But WebM has one big disadvantage: it is only supported on the latest browsers and devices. Older ones won't work with WebM, so if you want to be sure that everyone can see your videos, you may need a WebM-to-AVI converter. Try our tool! It can convert WebM to AVI online, so you don't have to download any software.
Here's how to convert WebM to AVI for free.
Add your WebM file from your computer, Dropbox, or Google Drive.
Choose AVI as the target format. Use the enhanced settings to fix quality and more.
Click the Convert button.
Your file is too large or you need to handle multiple files at once? See other options we offer!
ONLINE CONVERTER VS. DESKTOP CONVERTER
No charge
Limited file size
40+ input and output media formats
Online Converter – Subscription
Daily or monthly payments
Larger file size
40+ input and output media formats
Online storage
Free trial
Unlimited file size
Batch conversion
180+ input and output media formats
The online tool is a quick and easy way to convert videos from WebM to AVI, but if you need to process multiple files or your file is too large to handle the conversion online, try the desktop version. With the SuperSpeed Video Converter, you can convert as many files as you want, no matter how large they are. Download the app for your PC or Mac and follow the guidelines below.
Step 1.

Install and Run the Software

Double-click the file you've just downloaded and install the SuperSpeed Video Converter. Then run the program.
Step 2.

Add Your Videos

Click the Add Media button and then choose Add Video. Select all files you want to convert and then click Open. The files will appear in the SuperSpeed Video Converter's main window. Another way to add files is just to drag-and-drop your videos into this window.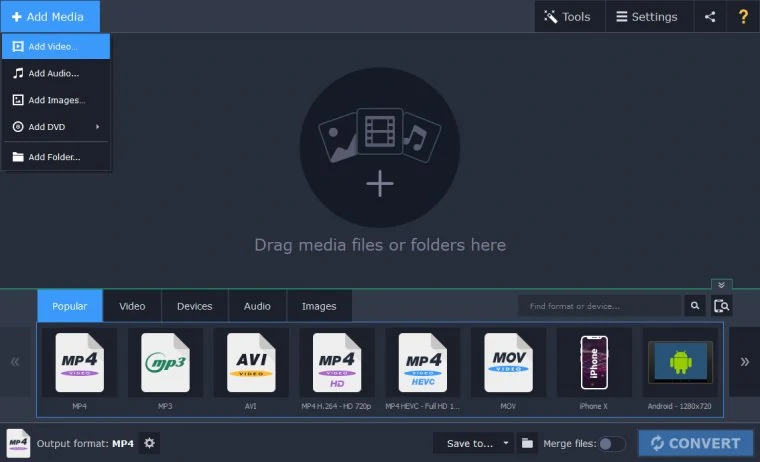 Step 3.

Choose AVI as the Output Format

In the Video tab, find the AVI profile group. Click on it to see the full list of presets available. Select the one that best suits your needs. You'll see the name of the selected preset below the list of preset groups.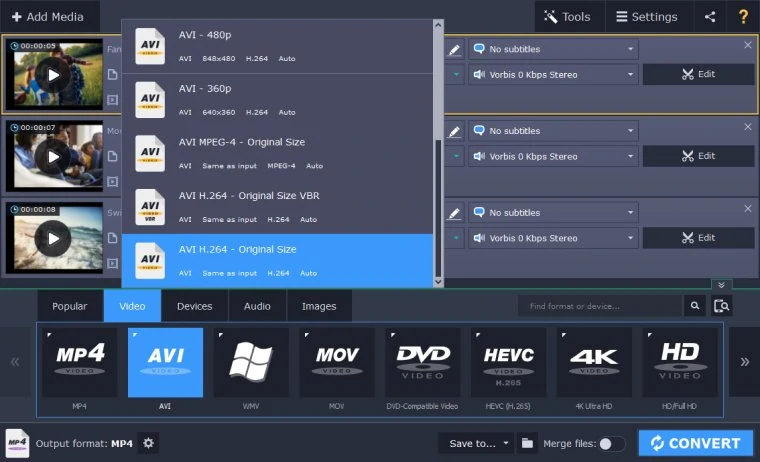 Step 4.

Convert WebM to AVI

If you want your files to be placed in a specific folder, determine where to save them after conversion by clicking the Folder button. The final stage: hit Convert and wait a short while to get your converted AVIs.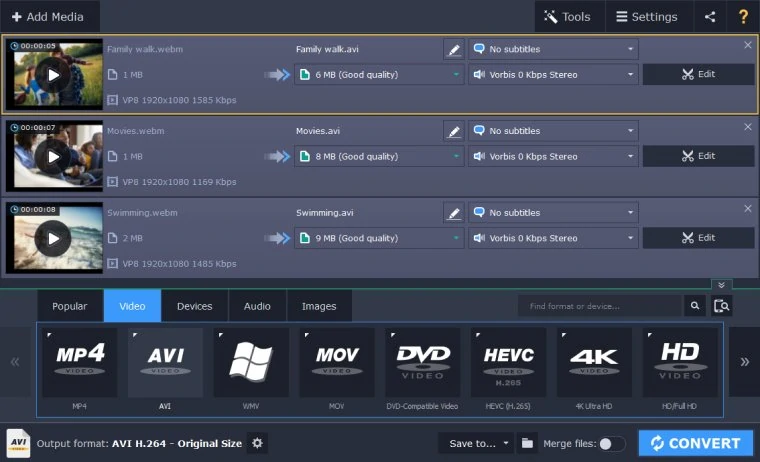 As you see, the conversion can be a fast and easy process. With SuperSpeed Video Converter, you can change file formats, extract audio tracks, or even adjust file parameters for specific devices. Our software has many functions, which means it's useful in many different situations.