Find out more about MP4-to-SWF conversion:
HOW TO CONVERT AN MP4 FILE TO SWF ONLINE?
SWF is Adobe's Flash format. It is typically used for simple multimedia files such as animations and vector graphics but, in fact, any format of video can be changed to SWF. If you want to convert a small MP4 file to SWF, you can do it with our Online Video Converter. It's free and easy-to-use: all you need to do is to follow this short guide on how to use the service.

Add your MP4 file from your computer, Dropbox, or Google Drive.
Select SWF as the target format. Use the enhanced settings to fix quality and more.
Click Convert.
Your file is too large or you need to handle multiple files at once? See other options we offer!
ONLINE CONVERTER VS. DESKTOP CONVERTER
No charge
Limited file size
40+ input and output media formats
Online Converter – Subscription
Daily or monthly payments
Larger file size
40+ input and output media formats
Online storage
Free trial
Unlimited file size
Batch conversion
180+ input and output media formats
If you have several MP4 files, it's better to use an offline MP4-to-SWF converter. Try SuperSpeed Video Converter. The software runs on both Windows and Mac and there's no watermark placed on the output video.
Step 1.

Install and Launch the Program

Download and install SuperSpeed Video Converter on your computer. After the installation is complete, run the program.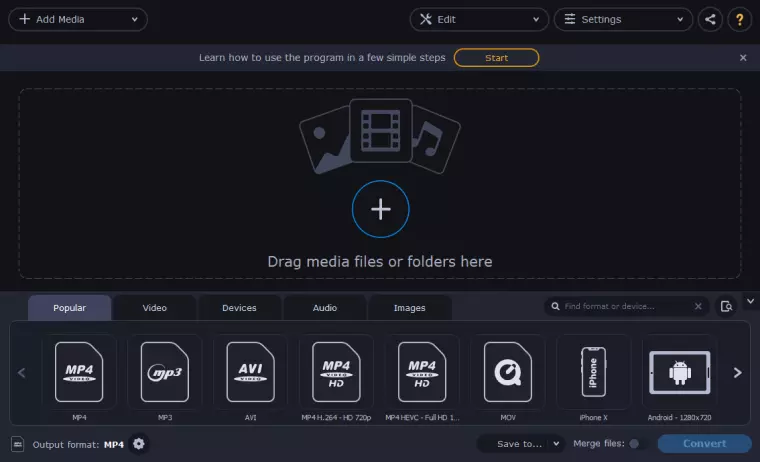 Step 2.

Add Your MP4 Files

Click Add Media, then Add Video and select your MP4 file.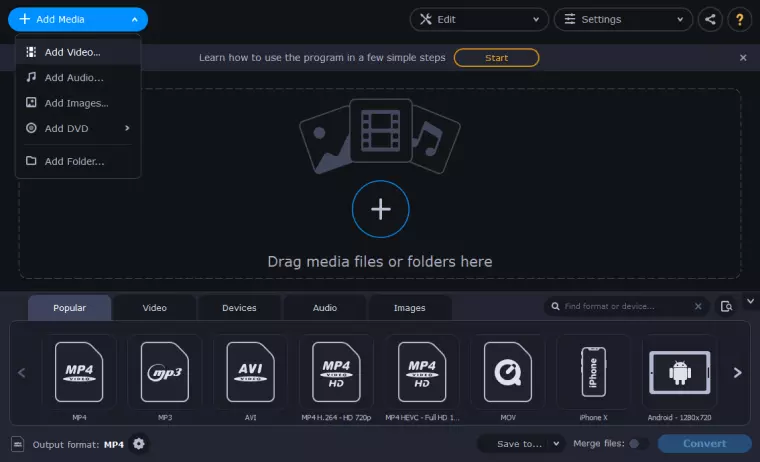 Step 3.

Specify the Target Format

Click Video, select SWF, and choose a preset.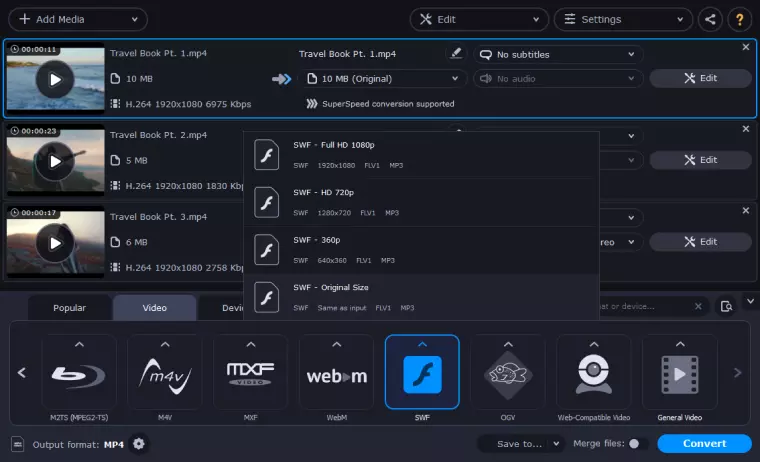 Step 4.

Change MP4 to SWF

Before you start converting, make sure the file will be saved where you want it to go on your PC. Click the Save to button and specify the desired destination in the dialog box that appears, then hit Convert. The file will appear in the specified folder.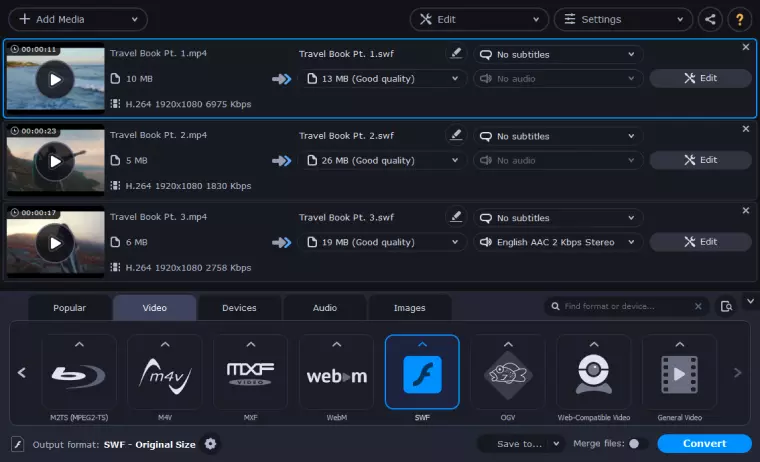 That's all there is to it: just choose the appropriate method to convert MP4 to SWF, depending on your needs, and try it for yourself!