Find out more about MP4-to-M4V conversion below:
HOW TO CHANGE MP4 TO M4V ONLINE?
Apple developed M4V as a video container format for its iTunes Store. The main difference between MP4 and M4V is the DRM support – MP4 doesn't have it. You can't edit or convert a DRM-protected M4V file.
With our web app, you can change MP4 to M4V online for free. Using our online MP4-to-M4V converter is simple – just follow the instructions below.
Add your MP4 file from your computer, Dropbox, or Google Drive.
Select M4V as the target format. Use the enhanced settings to fix quality and more.
Hit Convert.
Your file is too large or you need to handle multiple files at once? See other options we offer!
ONLINE CONVERTER VS. DESKTOP CONVERTER
No charge
Limited file size
40+ input and output media formats
Online Converter – Subscription
Daily or monthly payments
Larger file size
40+ input and output media formats
Online storage
Free trial
Unlimited file size
Batch conversion
180+ input and output media formats
An online converter is the best option for changing the format of a single smaller file. It's safer and more convenient than any freeware. However, you need a more powerful desktop software to convert batches of files. If you're wondering how to transfer MP4 to M4V, download SuperSpeed Video Converter for Windows or Mac and follow the instructions below.
Step 1.

Install the Software

Launch the installation package. When the installation is finished, double-click the program icon on the desktop to launch the converter.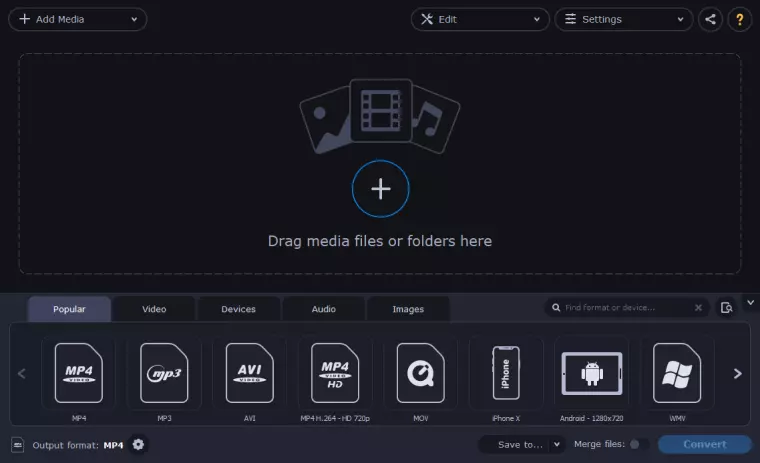 Step 2.

Add Your Files

Click Add Media, then click Add Video. Select the files for conversion in the dialog box and click Open to add them to the program.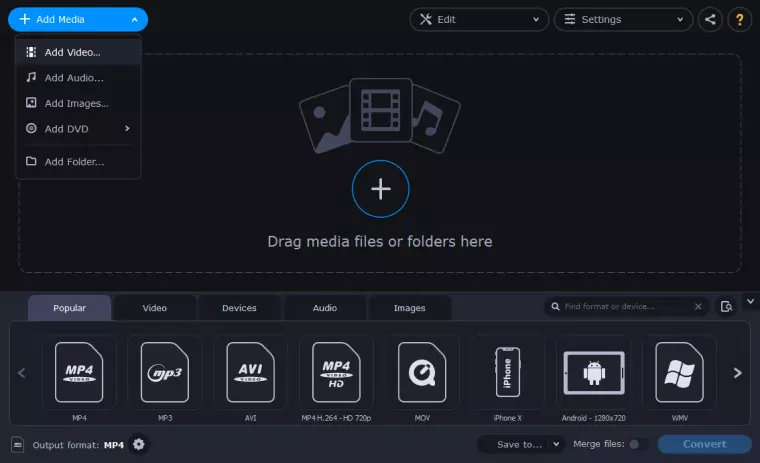 Step 3.

Select the Output Format

In the row of tabs, click Video, select M4V, and choose the only preset available.
Step 4.

Change MP4 to M4V

Click the Save to button to choose the folder where your converted files will be saved, then click Convert to transfer MP4 to M4V.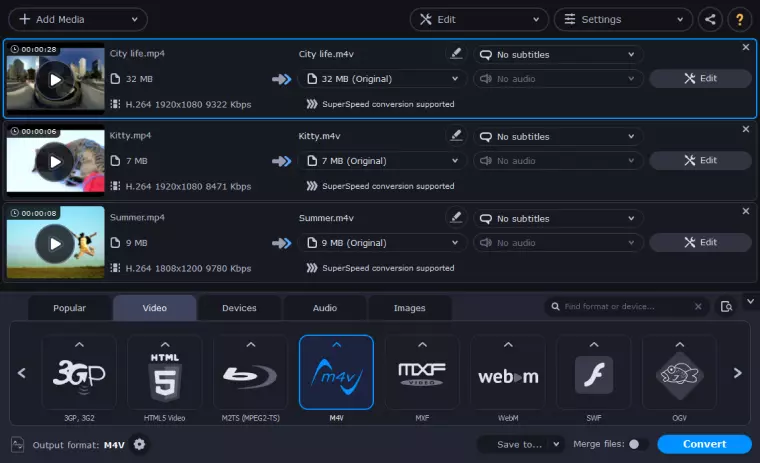 As you can see, switching between formats is easy with SuperSpeed Video Converter. This simple yet powerful software supports HD conversion and allows users to switch between more than 180 formats. Download SuperSpeed Video Converter and see for yourself!