Find out more about MP4-to-AVI conversion below:
How to Convert from MP4 to AVI Online?
MP4 and AVI are both very popular formats. MP4 is more widely used, and can be used on many devices, uploaded to iTunes, and more. However, AVI is still widely used to store movie files over 1 GB and to watch those movies on HD TVs. So sometimes people still need to change file formats from MP4 to AVI.
Searching for options, you may find the following: converting via different web services, taking advantage of MP4-to-AVI converters that are free (also known as "freeware"), and purchasing commercial programs to transcode different media files. Finding a quick way through this maze of recommendations may prove challenging.
If you want to know how to convert MP4 to AVI in the most efficient way, here's your answer. This article describes two of the best ways: using an online service and downloading conversion software. Here's a quick guide how to convert MP4 to AVI online.
Add your MP4 file from your computer, Dropbox, or Google Drive.
Choose AVI as the target format. Use the enhanced settings to fix quality and more.
Click the Convert button.
Your file is too large or you need to handle multiple files at once? See other options we offer!
ONLINE CONVERTER VS. DESKTOP CONVERTER
No charge
Limited file size
40+ input and output media formats
Online Converter – Subscription
Daily or monthly payments
Larger file size
40+ input and output media formats
Online storage
Free trial
Unlimited file size
Batch conversion
180+ input and output media formats
Although the online converter is free and fast and works without downloading, it is not all-powerful. It won't allow you to convert a large file of more than 100 MB, which is why a desktop format-changing program may be your best option. There's no size limit for either PC or Mac versions, so you can convert files of 1 GB or even larger with no problems. Just download and install the app to see how it works.
Step 1.

Install and Run the MP4-to-AVI Video Converter

When the download is complete, double-click the program installation package. Follow the on-screen instructions to finish the installation. When the process is complete, click Start to open the program.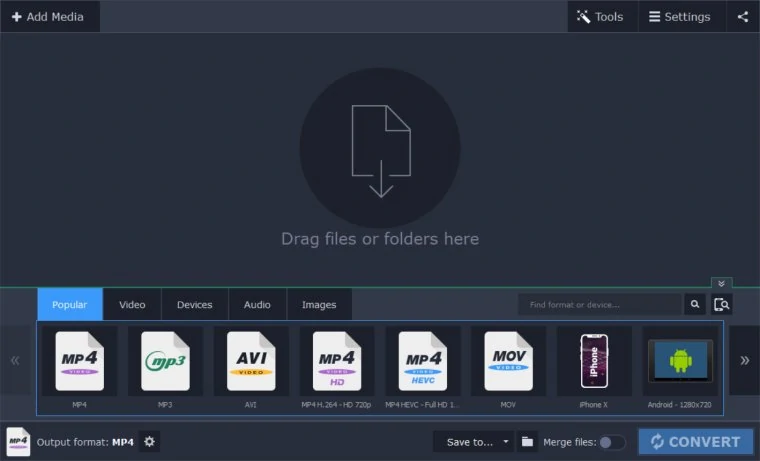 Step 2.

Drag and Drop Your MP4 Files into the Program

Find the files you want to turn into AVIs on your PC or Mac and drag and drop them into the program window. Another way to add files to the program is to open the Add Media menu, select Add Video, and locate the files via the Open File dialog box. When you select the files and click Open, they will appear in the program window.
By the way, there is no limit to the number of files you can add. However, the more files you add, the more time the conversion will take.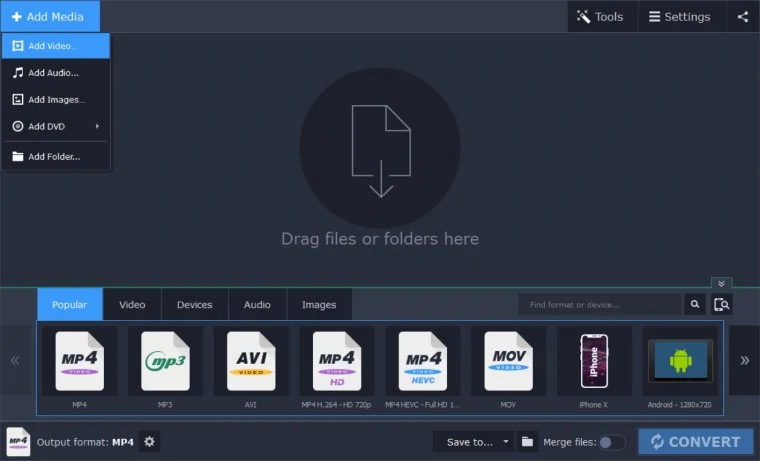 Step 3.

Select AVI as the Target Format

Now let's choose the profile for the file transfer. Click the Video tab and select the AVI profile group. In this group, find the profile that's most suitable for your needs, e.g. Original Size or Full HD 1080p.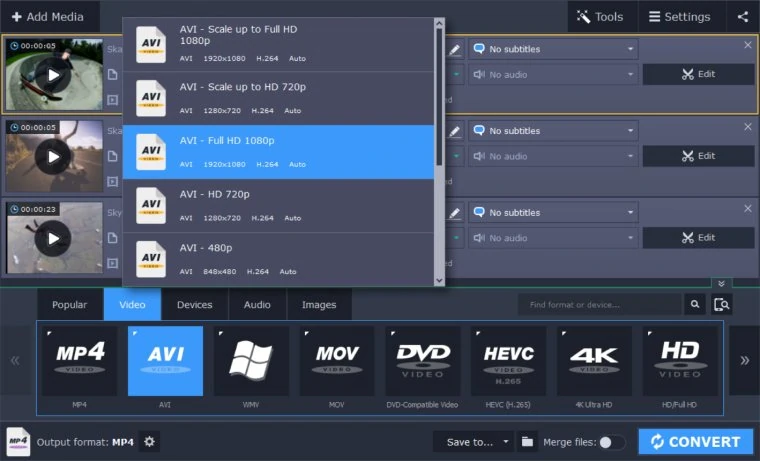 Step 4.

Transform MP4 to AVI

If you want to choose a destination folder for the processed files, click the Directory icon. In the Choose Directory window, locate the folder and confirm your choice. Now, click Convert in the bottom right corner to start the process.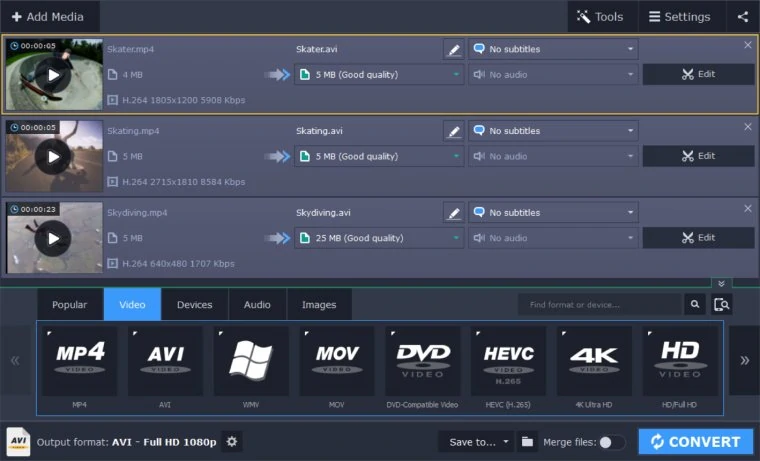 The conversion is done! SuperSpeed Video Converter is shareware that's available for Windows and Mac computers, including Windows XP, Vista, 7, 8, and 10 and Mac OS X 10.7 or higher. With this program, you can recode video, audio, and image files into different formats easily. Download the program now and check it out for yourself!