HOW TO CONVERT FROM MP4 TO AAC ONLINE?
When you're watching music videos, sometimes you may want to extract audio tracks to enlarge your sound collection for free and without looking for the music in iTunes, SoundCloud, or anywhere else. Let's convert MP4 to AAC online: converting online is the best way to change the file format if you don't want to install anything. Online converters don't require any space on your computer, unlike traditional freeware. Here's how to make the conversion using our website.
Add your MP4 file from your computer, Dropbox, or Google Drive.
Choose AAC as the target format. Use the enhanced settings to fix quality and more.
Click the Convert button.
Your file is too large or you need to handle multiple files at once? See other options we offer!
ONLINE CONVERTER VS. DESKTOP CONVERTER
No charge
Limited file size
40+ input and output media formats
Online Converter – Subscription
Daily or monthly payments
Larger file size
40+ input and output media formats
Online storage
Free trial
Unlimited file size
Batch conversion
180+ input and output media formats
When you have a batch of files, or your video file is too large for the online converter, the easiest option is to install an MP4-to-AAC converter on your desktop. Get our SuperSpeed Video Converter! This software can transfer audio tracks, regardless of size, from an MP4 video to an AAC audio container, and can do it very quickly. The program can process your media files on either PC or Mac. Here's how to convert MP4 to AAC using our app.
Step 1.

Download and Install SuperSpeed Video Converter

Download the software and double-click the installation package. Follow the guide on screen.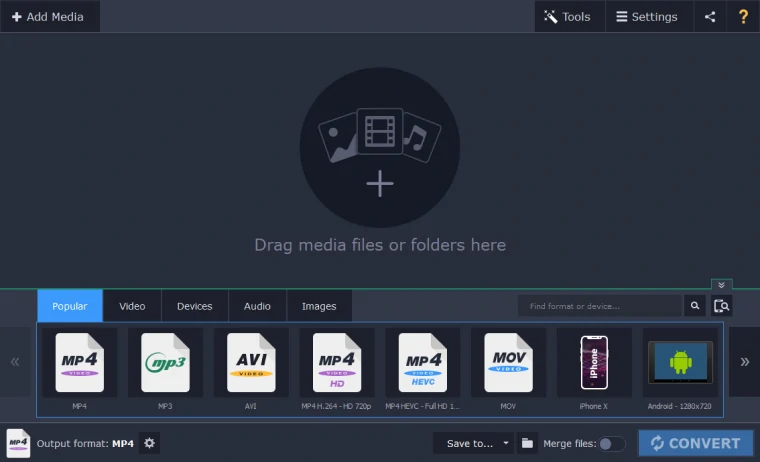 Step 2.

Upload Your Files

Click the Add Media button and choose Add Video from the list. Find your files, select all of them, and hit Open.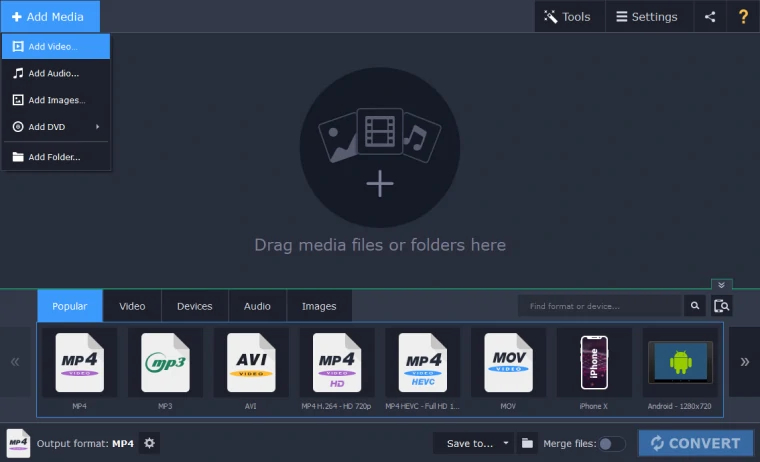 Step 3.

Specify the Format Needed

Since you need to encode data from video files to audio files, go to the Audio tab. Find the group of presets called AAC. Click it to see the list of presets and select the one that best suits your needs. That name will appear at the very bottom.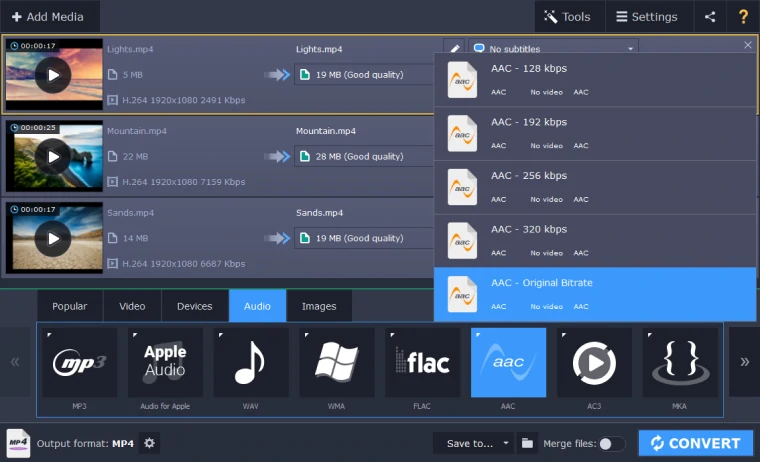 Step 4.

Convert from MP4 to AAC

The program is ready to convert all the files you've uploaded from MP4 to AAC. If you want them to be placed into a certain folder, click the Folder button and specify the directory. After doing this, hit Convert. Wait a short while, and there they are! Now you can enjoy your favorite tracks anywhere.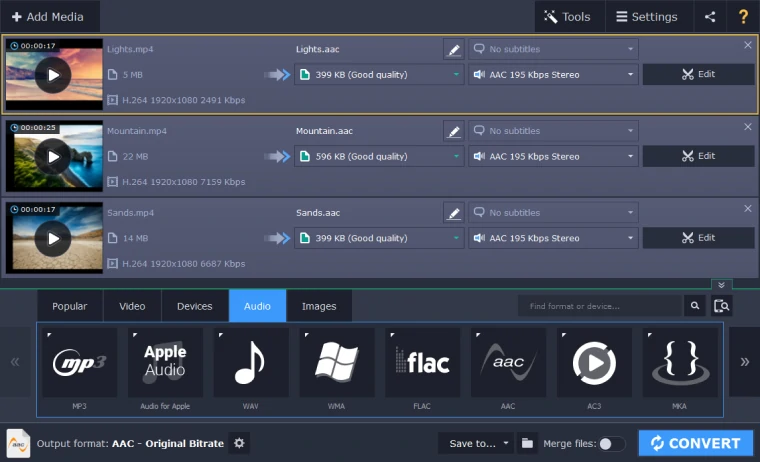 The SuperSpeed Video Converter is a great encoder that works equally easily with more than 180 formats. You don't need to be a computer science whiz – even a child can convert a video, soundtrack, or image to another format. Try our software and check out the benefits.