Find out more about MP3-to-M4A conversion below:
HOW TO CONVERT AN MP3 FILE TO M4A ONLINE?
MP3 is one of the most well-known audio formats and is supported by almost all operating systems and devices. You can even find MP3 files on iTunes, but Apple users still prefer the M4A format, because it is more compatible with their devices. This format also uses a different codec that has better compression, so the resulting file size may be lower than with MP3.
So, if you want to change the format of your files, you'll need an MP3-to-M4A converter. Don't mess with potentially risky freeware; try our online tool! It is probably the easiest way to transform your files. Here's how to convert MP3 to M4A online.
Add your MP3 file from your computer, Dropbox, or Google Drive.
Choose M4A as the target format. Use the enhanced settings to fix quality and more.
Click the Convert button.
Your file is too large or you need to handle multiple files at once? See other options we offer!
ONLINE CONVERTER VS. DESKTOP CONVERTER
No charge
Limited file size
40+ input and output media formats
Online Converter – Subscription
Daily or monthly payments
Larger file size
40+ input and output media formats
Online storage
Free trial
Unlimited file size
Batch conversion
180+ input and output media formats
A free online converter is a great tool when you just want to convert a single file. But what if you need to change the format of your whole music collection? For batches of files, get the desktop alternative: SuperSpeed Video & Audio Converter for Windows or Mac. It will help you to transform multiple files in just a few clicks. To do this, follow the guide below.
Step 1.

Download and Run the Software

Get the desktop converter via the link above this guide and install the program following the on-screen instructions. Launch the app.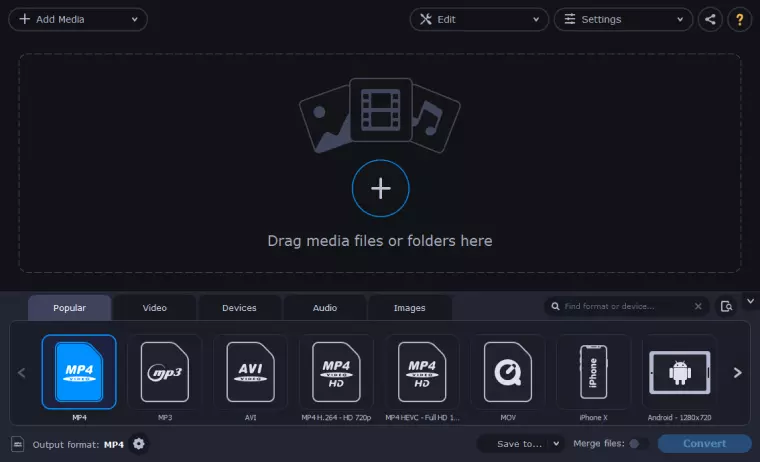 Step 2.

Add Your Audio Files

Click the Add Media button and choose Add Audio. Find the folder with the files you need to convert, select them, and hit Open. You'll see a file list appear.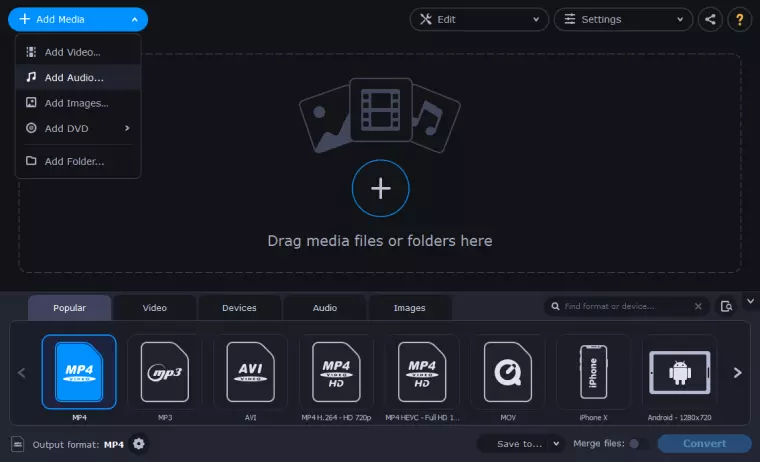 Step 3.

Choose the Resulting Format

Find the Audio tab under the list and click on it. To convert your music to M4A, you'll need the Audio for Apple group of presets. Click it and choose the output format: M4A or M4A Lossless (they differ by codec, AAC and ALAC respectively).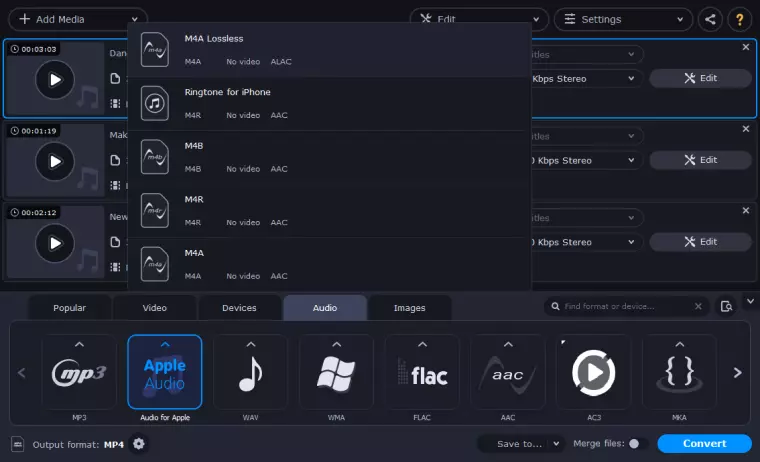 Step 4.

Convert Your Soundtracks from MP3 to M4A

Choose the output folder: hit the Save to button and locate the directory you want to store your files in. Now let the transformation begin! Click Convert and wait for a short while: the time remaining will be shown on the progress bar. After the conversion is complete, the folder you've chosen will open automatically. Now you can transfer your audio collection to your iPod, iPhone, or another Apple device and enjoy your music anywhere.