Find out more about MOV-to-WMV conversion below:
HOW TO CONVERT MOV TO WMV ONLINE?
MOV is the video format created by Apple, which means it works perfectly on Mac, but can often cause problems for Windows users. If you don't want to have issues playing your videos on a PC, especially using the default video player, it would be a good idea to transfer those videos to WMV. WMV stands for Windows Media Video – the format developed specifically for the Windows platform.
You can always convert MOV to WMV online using our website. Videoconverter.com leaves no watermark and doesn't trim the final result, unlike many other services and programs. No download needed, just follow these three simple steps:
Add your MOV file from your computer, Dropbox, or Google Drive.
Choose WMV as the target format. Use the enhanced settings to fix quality and more.
Click the Convert button.
Your file is too large or you need to handle multiple files at once? See other options we offer!
ONLINE CONVERTER VS. DESKTOP CONVERTER
No charge
Limited file size
40+ input and output media formats
Online Converter – Subscription
Daily or monthly payments
Larger file size
40+ input and output media formats
Online storage
Free trial
Unlimited file size
Batch conversion
180+ input and output media formats
Our online encoder works only with video files under 100 MB and can only transcode one video at a time. So, if your needs fall outside these criteria, you can always hunt down desktop converting software. But don't bother searching for a free MOV-to-WMV converter, because those programs frequently cannot deliver the best quality and may even contain viruses. So instead of getting some unknown freeware, we recommend you use SuperSpeed Video Converter – Movavi's user-friendly, yet powerful conversion program. Download it now and follow the steps below to learn how to convert MOV to WMV with a desktop converter.
Step 1.

Install the Program

Launch the downloaded file and follow the on-screen instructions to install the program. Double-click the desktop icon to start the converter.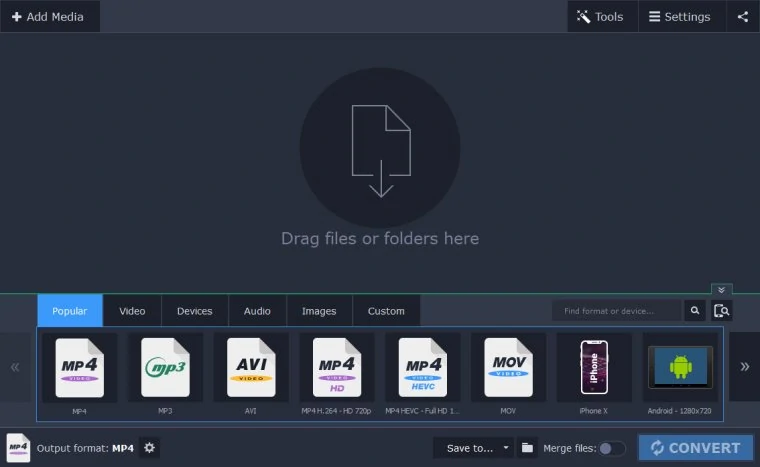 Step 2.

Add Files

To add files for conversion, just drag and drop your MOV videos right into the program interface. Alternatively, you can click Add Media, choose Add Video, and select the files you want to upload from your hard drive.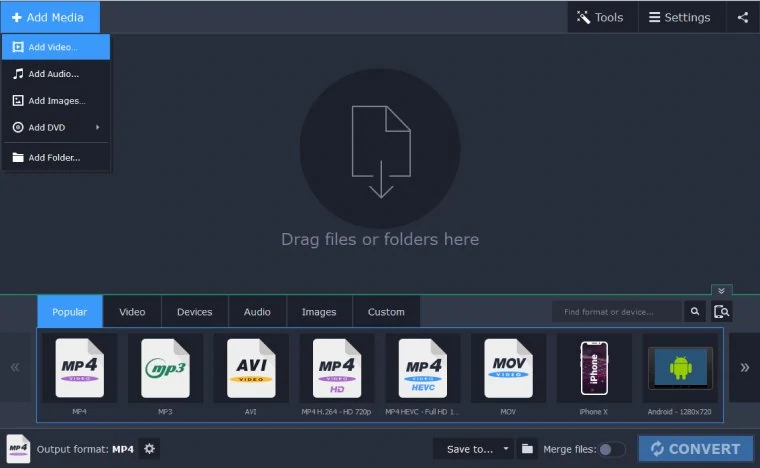 Step 3.

Set the Output Format

Go to the Video tab and click the WMV group. In the list that opens, select the preset that suits your needs. If you don't know which one to choose, the best way is to stick with the Original Size preset.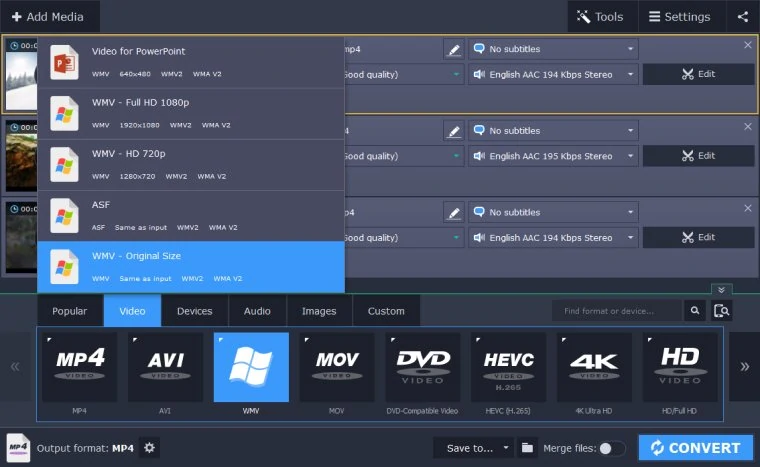 Step 4.

Convert Your Files from MOV to WMV

Before you export the videos, select the folder where you want to keep the output files by clicking the Folder icon. When everything is ready, hit Convert to start the conversion.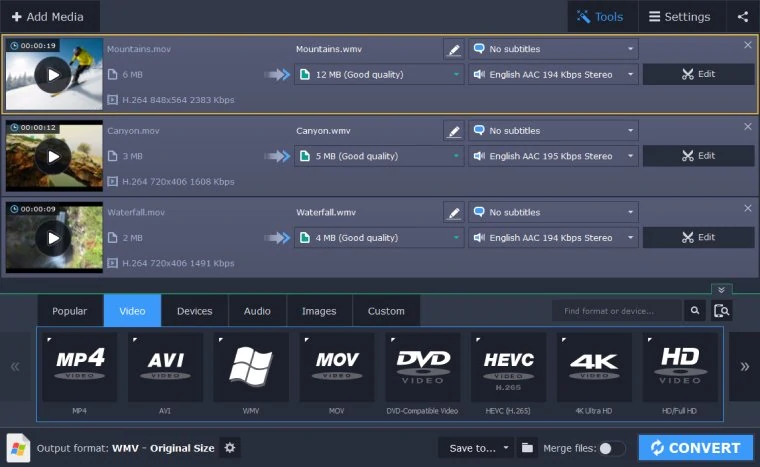 Now you know how to easily convert videos from MOV to WMV. The SuperSpeed Video Converter is an essential tool for whenever you need to change the format of any kind of video, including Full HD and even 4K! Download the version for Mac (OS X 10.7 or higher) or Windows (XP/Vista/7/8/10) and try it out for yourself.