Find out more about FLV-to-AVI conversion below:
HOW TO CONVERT FLV TO AVI ONLINE?
When you save videos from the Internet, they are often in FLV format. To play these files on your device, you may need to install special players or download codecs. Or you can simply convert an FLV video to a more universal AVI format! Converting from FLV to AVI online is fast, and it's safer than downloading potentially ricky freeware to change video format. So, if you want to learn how to convert FLV to AVI online, follow these simple steps with our free FLV-to-AVI converter.
Transform videos online in 3 steps:
Add your FLV file from your computer, Dropbox, or Google Drive.
Choose AVI as the target format. Use the enhanced settings to fix quality and more.
Click the Convert button.
Your file is too large or you need to handle multiple files at once? See other options we offer!
ONLINE CONVERTER VS. DESKTOP CONVERTER
No charge
Limited file size
40+ input and output media formats
Online Converter – Subscription
Daily or monthly payments
Larger file size
40+ input and output media formats
Online storage
Free trial
Unlimited file size
Batch conversion
180+ input and output media formats
If you need to convert a large file or a batch of videos, one of the best ways to do it is to use SuperSpeed Video Converter. The software works on Windows 10/8/7/Vista/XP and MacOS. The program can convert videos into different formats, including FLV, AVI, MPEG, MP4, and ensures you get high-quality videos with no watermark. Read the instruction below to learn how to convert an FLV file to AVI on Windows or Mac.
Step 1.

Install and Run the FLV-to-AVI Video Converter

Download the program installation file for Windows or Mac, open it, and go through the installation process. When the installation is completed, open the converter by double-clicking the program icon on the desktop.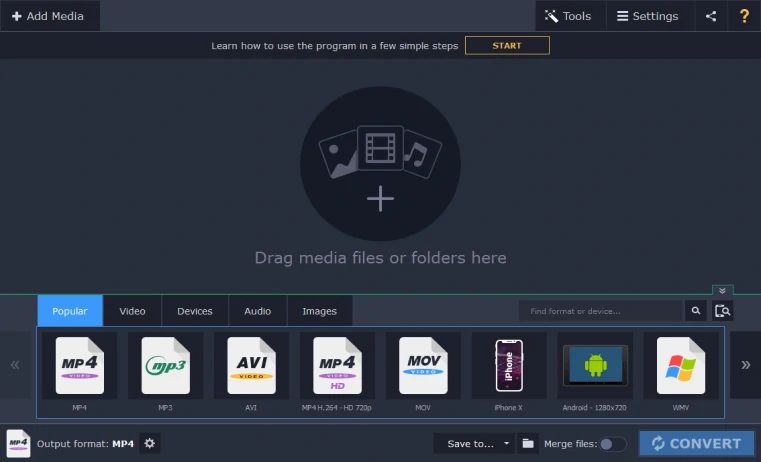 Step 2.

Add FLV Files to the Program

To add files to the program, click Add Media and then Add Video. Select the FLV files you want to convert and click Open. The files will be added into the app.
Step 3.

Select AVI as the Target Format

To choose the target format, open the Video tab. Click AVI and select the desired preset from the list.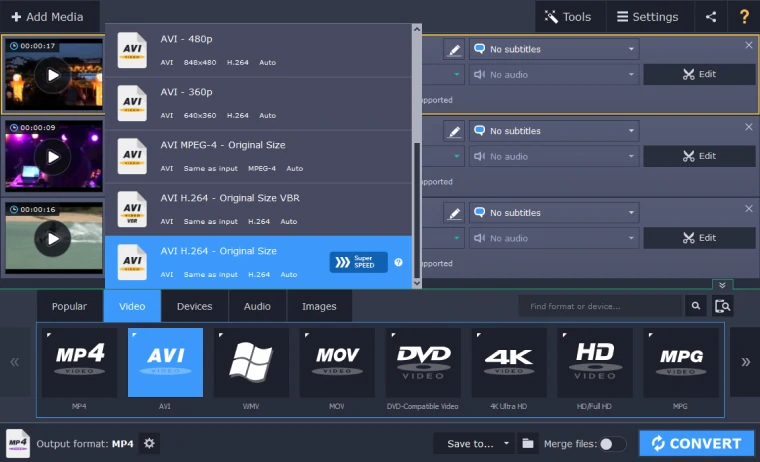 Step 4.

Transform FLV to AVI

If you wish to change the name of the output file, click the Pencil icon and enter the new name. To start the conversion process, click Convert in the bottom-right corner. When the conversion is completed, the destination folder will open automatically.