Find out more about FLAC-to-WAV conversion below:
HOW TO CONVERT FLAC TO WAV ONLINE?
FLAC is a lossless compression format, which means that files in this format take up less storage space while the quality remains high. The problem is that FLAC is not supported on Macs and some mobile devices. But there is a solution – transcode FLAC to a more universal format like WAV without losing quality. The WAV format is widely supported on smartphones – you will be able to upload WAV files on your mobile device and enjoy high-quality music anytime. WAV files are uncompressed, so in order to change FLAC to this format, you'll need to decompress the FLAC files. There are different ways to do this. For example, you can download a free FLAC-to-WAV converter, but freeware is not always safe. Use our FLAC-to-WAV converter for free. It works online, so you won't need to download any potentially risky software.
Сonvert FLAC to WAV online in 3 simple steps.
Add your FLAC file from your computer, Dropbox, or Google Drive.
Choose WAV as the target format. Use the enhanced settings to fix quality and more.
Click the Convert button.
Your file is too large or you need to handle multiple files at once? See other options we offer!
ONLINE CONVERTER VS. DESKTOP CONVERTER
No charge
Limited file size
40+ input and output media formats
Online Converter – Subscription
Daily or monthly payments
Larger file size
40+ input and output media formats
Online storage
Free trial
Unlimited file size
Batch conversion
180+ input and output media formats
The online version is a great tool for processing a single file. But if you need to decompress a batch of files, or your file is very large, one of the best options is to use the desktop version of the converter. The app is available for Windows and Mac. If you want to know how to convert FLAC to WAV, read the following guide.
Step 1.

Install the Program and Launch It

Download the program installation package, open it, and follow the on-screen instructions. When the installation process is complete, launch the program.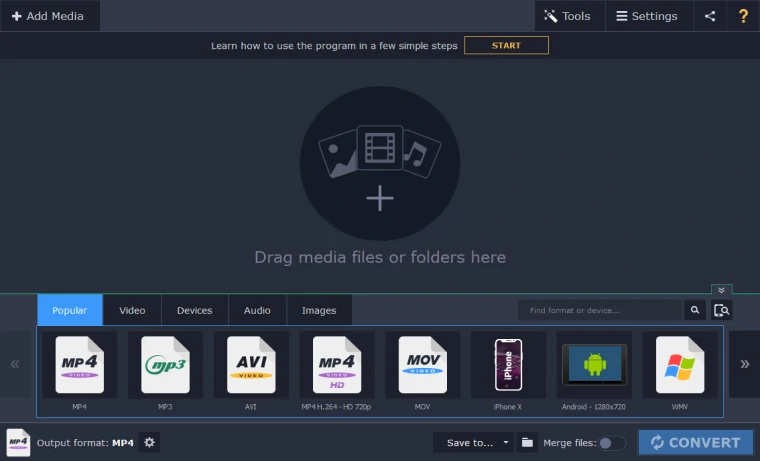 Step 2.

Add Files into the Converter

There are two ways to add media files into the program. One option is to drag and drop files into the program window. The other way is to click Add Media, select Add Audio, and choose the tracks you want to transcode. Click Open, and the files will be added to the program.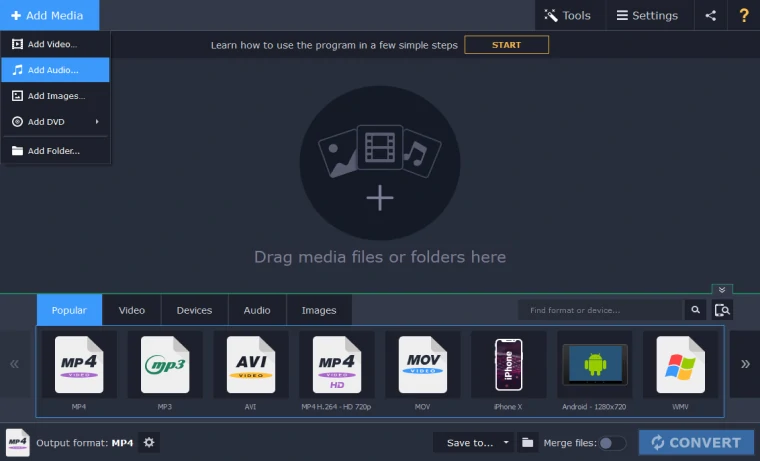 Step 3.

Select WAV as the Target Format

In the row of tabs below, click Audio. It will open a range of audio formats. Select WAV and click the preset available. Now the output format has been changed to WAV.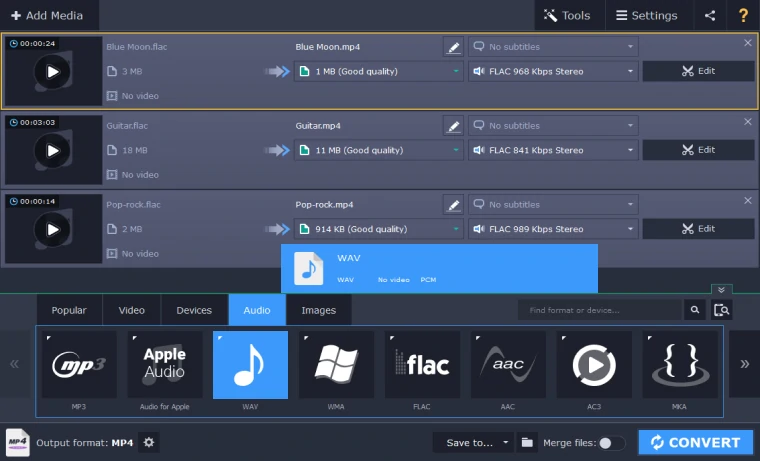 Step 4.

Transcode FLAC to WAV

To choose the destination folder, click the Folder icon at the bottom. Select the location where you want to save the output files and confirm your choice. Click Convert in the lower-right corner to transform files from FLAC to WAV.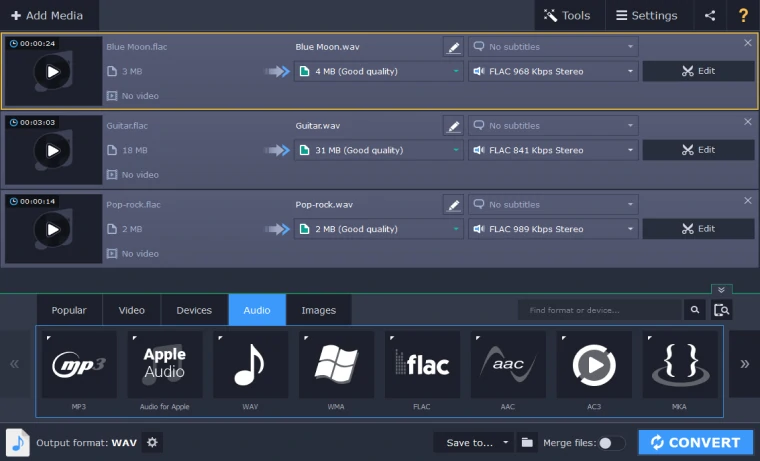 Converting FLAC to WAV is easy with SuperSpeed Video Converter. Download the app and check it out for yourself!