Find out more about FLAC-to-MP3 conversion below:
HOW TO CONVERT FLAC TO MP3 ONLINE?
FLAC is short for Free Lossless Audio Codec and was first published in 2001 by the Xiph.Org Foundation. FLAC is useful when you want to compress audio without losing quality. But, like other high-quality formats, FLAC files can be huge and, if the storage space on your device is not big enough, you might have problems keeping all of your audio collection safe on this device. Another problem is that FLACs are not widely supported on smartphones and other mobile devices.
To get around these problems, you can transcode your FLAC media to a more universal and lossy format like MP3. In this case, files will require less space and you will be able to listen to your music anywhere. The best and fastest way to do this is to use a FLAC-to-MP3 converter. Try this one! It will turn your file from FLAC to MP3 without the need to download any potentially risky freeware or shareware. Just follow this short guide to convert FLAC to MP3 online.
Add your FLAC file from your computer, Dropbox, or Google Drive.
Choose MP3 as the target format. Use the enhanced settings to fix quality and more.
Click the Convert button.
Your file is too large or you need to handle multiple files at once? See other options we offer!
ONLINE CONVERTER VS. DESKTOP CONVERTER
No charge
Limited file size
40+ input and output media formats
Online Converter – Subscription
Daily or monthly payments
Larger file size
40+ input and output media formats
Online storage
Free trial
Unlimited file size
Batch conversion
180+ input and output media formats
The free FLAC-to-MP3 converter is a good choice when you only have one file to transform. For multiple files, consider using the desktop version: SuperSpeed Video Converter. It works with video, audio, images, even do minor video editing and rip DVDs. The program can easily convert all your top albums in one pass. Here's how to convert FLAC to MP3 with the SuperSpeed software.
Step 1.

Install SuperSpeed Video Converter

Download the program for your Windows or Mac OS X PC. Launch the installation file and follow the guidelines. Run the app.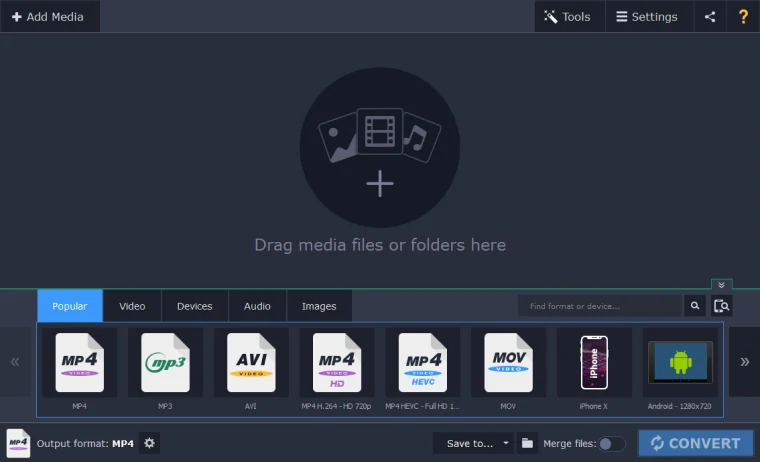 Step 2.

Upload a Batch of Files

Click Add Media and choose Add Audio. Find the folder where your files are stored, select the files, and hit Open. You'll see all your audio files in the program window, ready for mass conversion.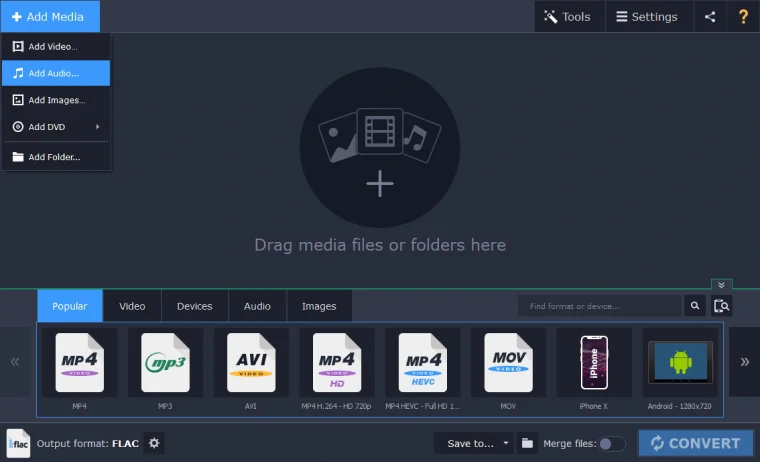 Step 3.

Define the MP3 as the Output Format

In the row of tabs below the file list, switch to the Audio tab. Find the MP3 group of presets. Select one of the presets: they vary from 128 to 320 kbps, or you can keep the original bitrate.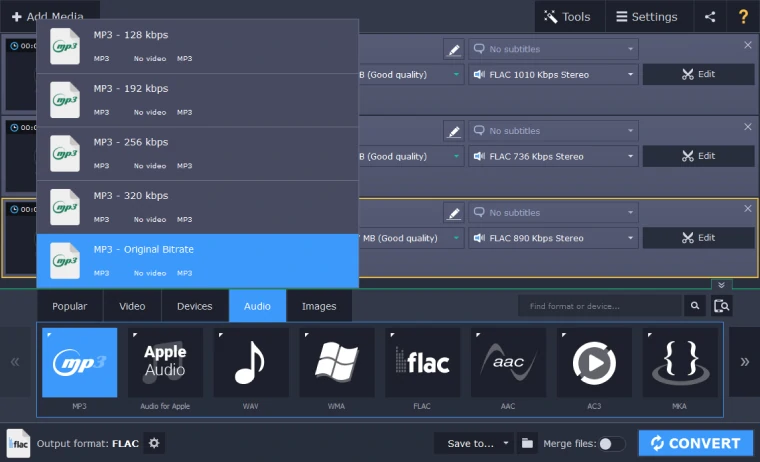 Step 4.

Start Converting from FLAC to MP3

Change the destination of the output files by clicking the Folder icon. To start decoding the files from FLAC and encoding into MP3, click Convert. After the transfer's done, the folder you specified will open automatically. Now you can listen to your music everywhere!