Find out more about FLAC-to-M4A conversion below:
HOW TO CONVERT A FLAC FILE TO M4A ONLINE?
FLAC is very popular because it offers a good compression rate while maintaining a high quality of sound. This format is lossless so it can compress your audio file by up to 50-60% without losing quality, but when it comes to playing FLAC files back on Apple devices, you may encounter a compatibility problem. Also, if you already have some music stored in FLAC format and want to import the file to iTunes, you'll need to change the format because iTunes doesn't support FLAC. To resolve these issues, you can convert your audio files to, for example, M4A which is the default Apple audio format.
So, you might need a FLAC-to-M4A converter. Consider using this tool! It is free and you can do everything online on any device connected to the I\internet. Here's how you convert FLAC to M4A online.
Add your FLAC file from your computer, Dropbox, or Google Drive.
Choose M4A as the target format. Use the enhanced settings to fix quality and more.
Click the Convert button.
Your file is too large or you need to handle multiple files at once? See other options we offer!
ONLINE CONVERTER VS. DESKTOP CONVERTER
No charge
Limited file size
40+ input and output media formats
Online Converter – Subscription
Daily or monthly payments
Larger file size
40+ input and output media formats
Online storage
Free trial
Unlimited file size
Batch conversion
180+ input and output media formats
The online approach is probably the best one to use if you don't have the opportunity to download and/or install any software. But if you have a batch of soundtracks or your file is too large, try the desktop version of our tool: the SuperSpeed Converter. It is available for both Mac and Windows, and the program can easily perform mass conversions. Just follow these simple instructions.
Step 1.

Download the Software

Get the installation file from this site and launch the installation process. The on-screen instructions will guide you through it. Run the program.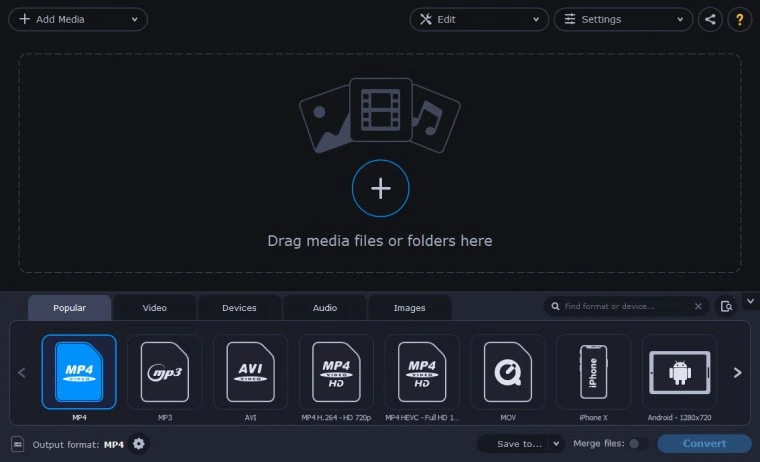 Step 2.

Upload Your Music

Click the Add Media button. Select Add Audio, find the files you are going to convert, select them, and hit Open. You'll see them appeared as a list in the program window.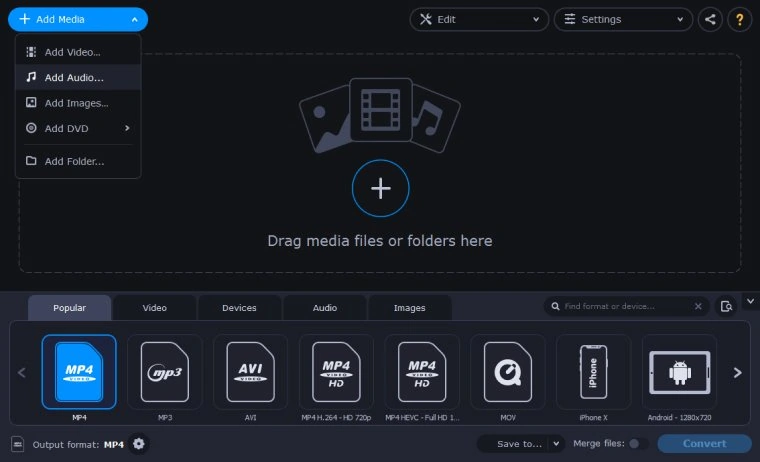 Step 3.

Define the Output Format

Under the file list, find the Audio tab and click it. You'll see a row of preset groups. Choose Audio for Apple and select one of the presets: M4A or M4A Lossless depending on what you need. Your files are ready to be transformed.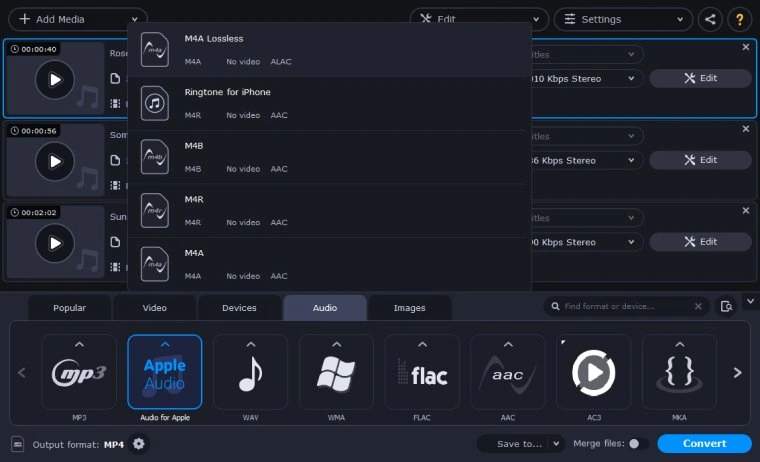 Step 4.

Convert from FLAC to M4A

If you want your audios to be saved into a certain folder, click the Save to button and locate the directory you want. You can also use the Merge files switch to join your audio files together. Now, start converting. Click the Convert button and wait for a short while. After the process is complete, the folder you specified before will open automatically. Enjoy your music on any Apple device!