Find out more about AVI-to-MOV conversion below:
HOW TO CONVERT AVI TO MOV ONLINE?
If you want to know how to convert AVI to MOV, a media format developed by Apple, then our conversion service is a great place to start. There's no need to install complicated converting freeware on your PC. You can quickly and easily convert your files between many popular video and audio formats by using our online AVI-to-MOV converter for free. Simply follow these three simple steps:
Add your AVI file from your computer, Dropbox, or Google Drive.
Choose MOV as the target format. Use the enhanced settings to fix quality and more.
Click the Convert button.
Your file is too large or you need to handle multiple files at once? See other options we offer!
ONLINE CONVERTER VS. DESKTOP CONVERTER
No charge
Limited file size
40+ input and output media formats
Online Converter – Subscription
Daily or monthly payments
Larger file size
40+ input and output media formats
Online storage
Free trial
Unlimited file size
Batch conversion
180+ input and output media formats
Almost all of online conversion services have restrictions on the size of file you can upload, so if your file is larger than 100 MB, you won't be able to convert AVI to MOV online using this website. But that's no reason to give up, as there's a great desktop solution hat's just as easy and fast as our online service – SuperSpeed Video Converter. You'll have no problem converting AVI to MOV, no matter how big the original files are! Download the Mac or Windows version and follow the guide below to start converting right away.
Step 1.

Install the Program

Open the downloaded file and follow the on-screen instructions to install the program. When the software is installed, simply double-click on the icon to launch it.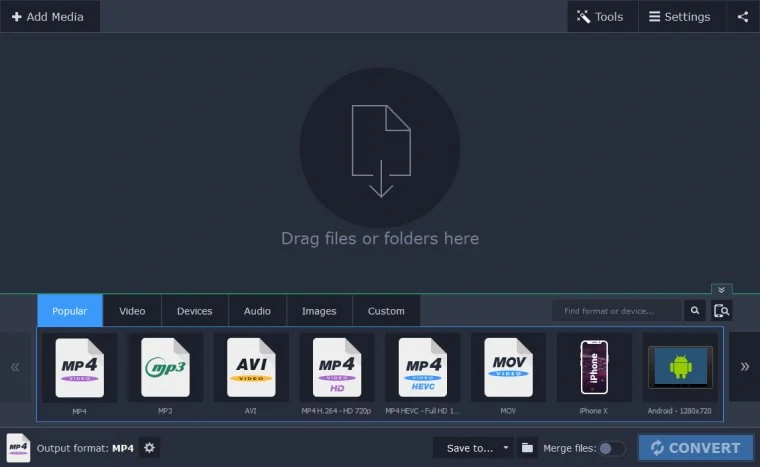 Step 2.

Add AVI Files to the Program

Click Add Media in the top left corner of the program, choose Add Video and select the AVI files you want to add. You can also simply drag and drop your videos onto the program interface.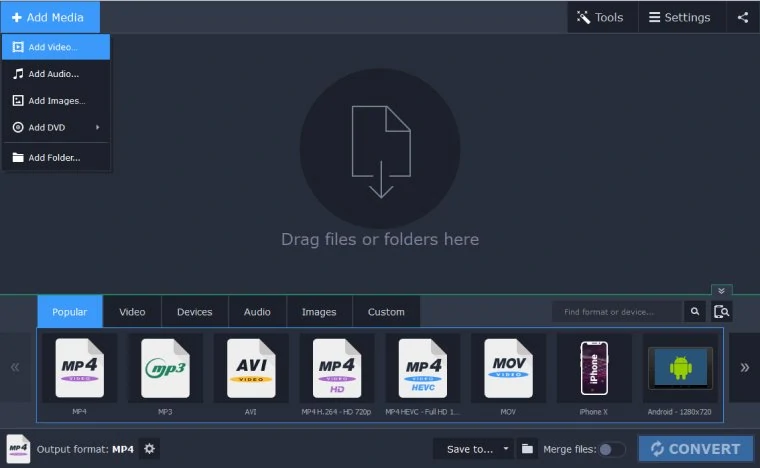 Step 3.

Set the Output Format

Click the Video tab, find the MOV preset group, and choose the appropriate preset for your needs. For the best quality output files, choose the Original Size preset.
Step 4.

Transcode Your Files from AVI to MOV

Click the Folder icon to change the destination folder if you want. When everything is ready, simply hit Convert and wait for the files to be converted.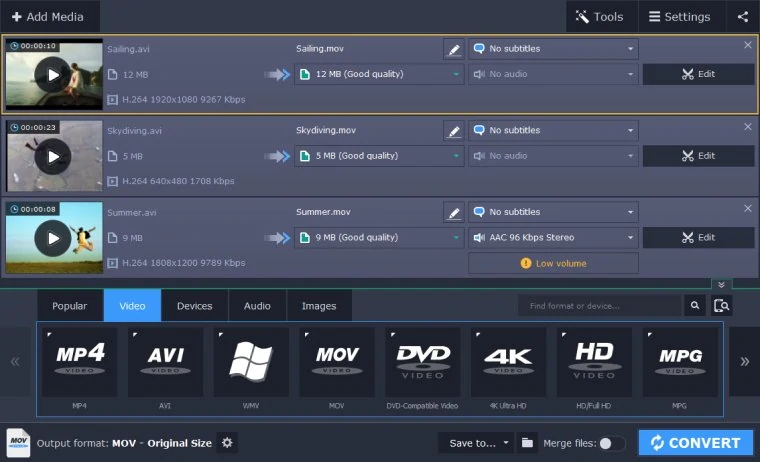 SuperSpeed Video Converter is a fast, easy-to-use tool for converting your AVI files to the QuickTime video format. Download the version for Mac (OS X 10.7 or higher) or Windows (XP/Vista/7/8/10) and try it out for yourself.