Find out more about AVCHD-to-MP4 conversion below:
HOW TO CONVERT AVCHD FILES TO MP4 ONLINE FOR FREE?
If your Panasonic or Sony camera records videos in AVCHD format, you most likely encounter problems when you try to watch your videos on a mobile device or upload them to the internet. The best way around this is to convert your files to a more popular format such as MP4.
We suggest you convert AVCHD to MP4 online with our handy conversion tool. It's completely free, works with files in many popular formats, and no watermark is added to the converted video.
Follow the steps below and learn how to use the free AVCHD-to-MP4 converter.
Add your AVCHD file from your computer, Dropbox, or Google Drive.
Choose MP4 as the output format. Use the enhanced settings to fix quality and more.
Click the Convert button.
Your file is too large or you need to handle multiple files at once? See other options we offer!
ONLINE CONVERTER VS. DESKTOP CONVERTER
No charge
Limited file size
40+ input and output media formats
Online Converter – Subscription
Daily or monthly payments
Larger file size
40+ input and output media formats
Online storage
Free trial
Unlimited file size
Batch conversion
180+ input and output media formats
The SuperSpeed Video Converter is one of the best ways to convert files over 100 MB. This software has a user-friendly interface so it will only take you a few minutes to change the format of your videos from AVCHD to MP4. Just download the SuperSpeed Video Converter for Windows or Mac and follow the guide below to learn how to convert AVCHD to MP4!
Step 1.

Install and Run SuperSpeed Video Converter

Download the installation file and install the software on your PC or Mac following the onscreen prompts. After the installation is complete, the program will open automatically.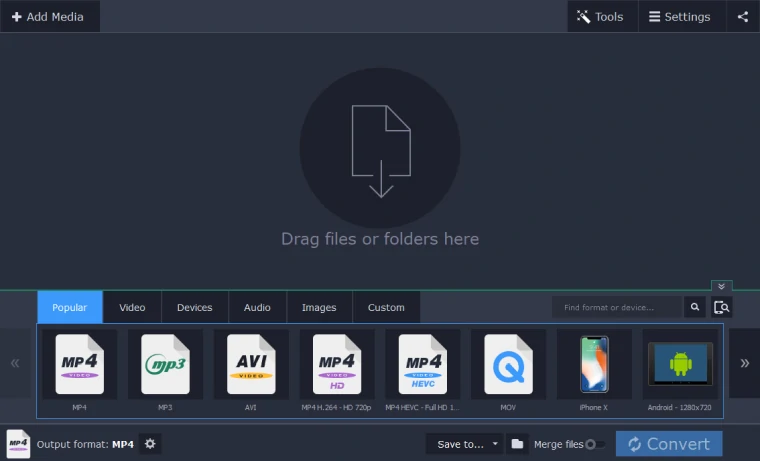 Step 2.

Add Files to the Program

Hit the Add Media button in the top left corner of the program window. Then, click Add Video and in the dialog box choose the files you want to convert.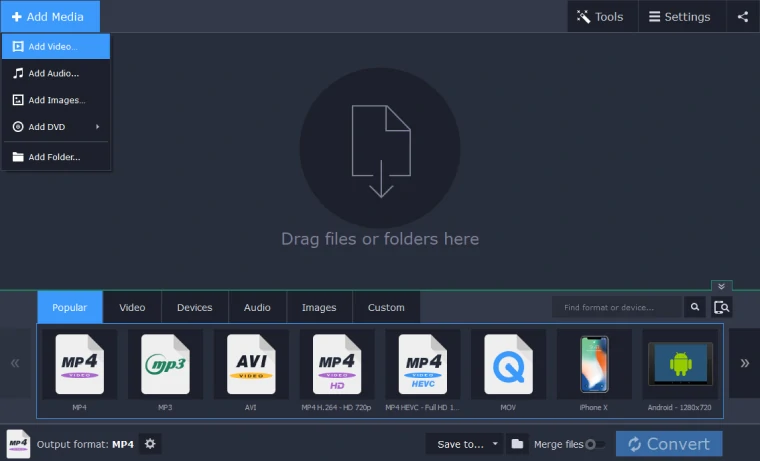 Step 3.

Select the Target Format

Find the Video tab in the lower part of the program window. Next, click the MP4 profile group and select the appropriate MP4 preset in the drop-down list.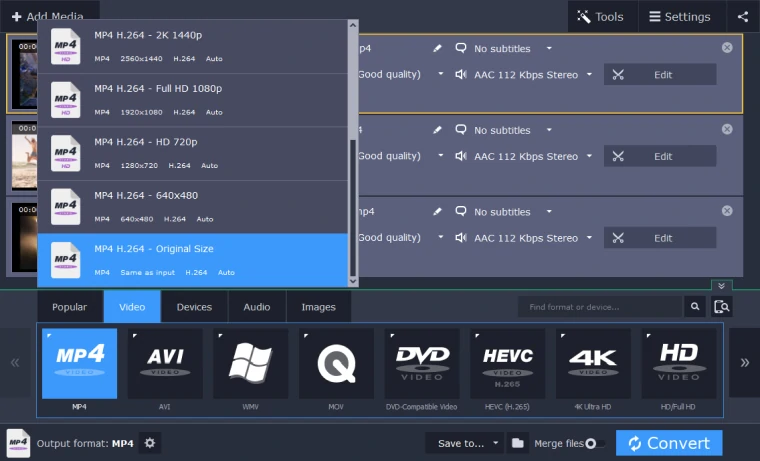 Step 4.

Convert AVCHD to MP4

To choose your output folder, click Folder in the bottom right of the program window and specify a destination folder. Click the Convert button to start converting AVCHD to MP4.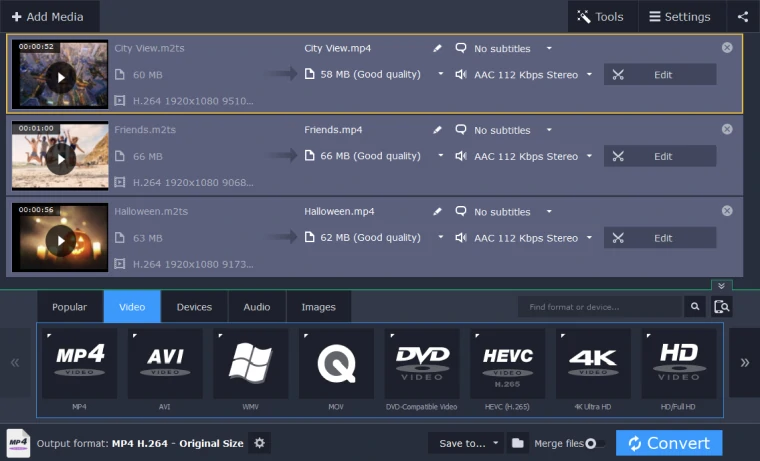 If you want to change the format of your media files without losing quality, the SuperSpeed Video Converter is definitely worth a try. The program is more than just an AVCHD converter; you can easily convert a collection of your favorite movies to watch on your mobile device, as well as reduce file size, enhance video quality, and much more!