Find out more about AAC-to-MP3 conversion below:
HOW TO CONVERT AAC TO MP3 ONLINE?
The AAC format was introduced in 1997 to replace MP3: AAC provides better sound quality, is more efficient in encoding, and supports more audio channels. For example, if you use the Apple Music app, those soundtracks have the .aac extension, as do those purchased from iTunes. But if you have different devices and want to listen to your audio collection on any of them without iTunes, probably the best way forward is to change the format of your files to MP3, which is still used almost everywhere.
To turn your favorite audio into a universally supported MP3, you don't need to download anything, just use this online AAC-to-MP3 converter for free. It will easily transform your file and you'll get your new MP3 in no time! Here's how you convert AAC to MP3 online.
Add your AAC file from your computer, Dropbox, or Google Drive.
Choose MP3 as the target format. Use the enhanced settings to fix quality and more.
Click the Convert button.
Your file is too large or you need to handle multiple files at once? See other options we offer!
ONLINE CONVERTER VS. DESKTOP CONVERTER
No charge
Limited file size
40+ input and output media formats
Online Converter – Subscription
Daily or monthly payments
Larger file size
40+ input and output media formats
Online storage
Free trial
Unlimited file size
Batch conversion
180+ input and output media formats
The online tool is very useful for one-off conversions, but if you often have a need for converting files, consider getting the desktop version. The SuperSpeed converter can be installed on Windows or Mac computers and can process your files in batches even if they are very large (audiobooks or a long series of podcasts). Additionally, the converter can be used to edit videos and images before converting or join multiple files to create a single longer video or audio clip. To learn how to convert AAC to MP3 with the help of SuperSpeed Video Converter, read the guide below.
Step 1.

Install the Software

Download and launch the installation file for your operating system. Follow the instructions on your screen to install and run the app.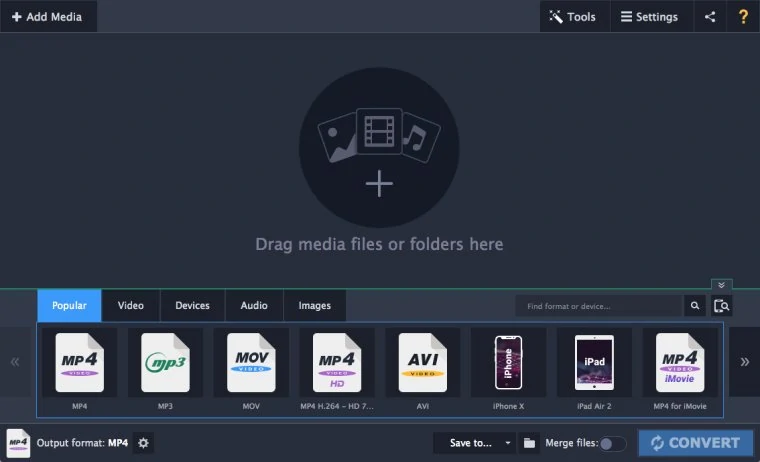 Step 2.

Import Your Audio files

Find the Add Media button on the top left. Click it and choose Add Audio. Locate the files you want to convert, select them, and click Open. Alternatively, you can just drag the files into the program window.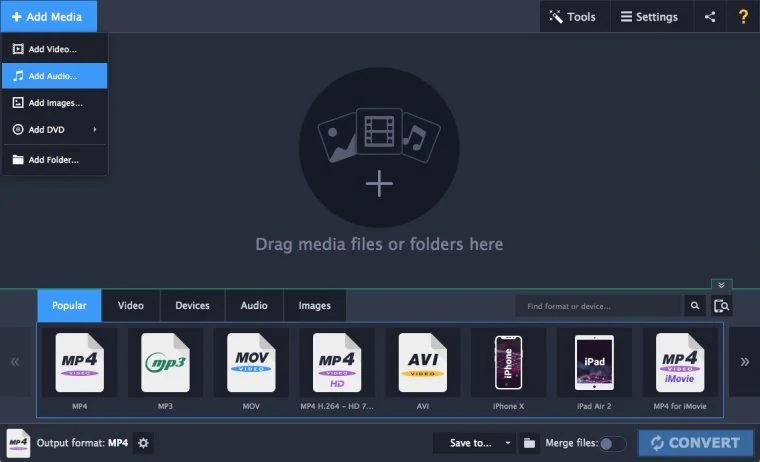 Step 3.

Set MP3 as the Output Format

Open the Audio tab and select the MP3 category to see the list of available presets. Choose one: they differ only by bitrate. You'll see the name of the selected preset at the bottom of the program window.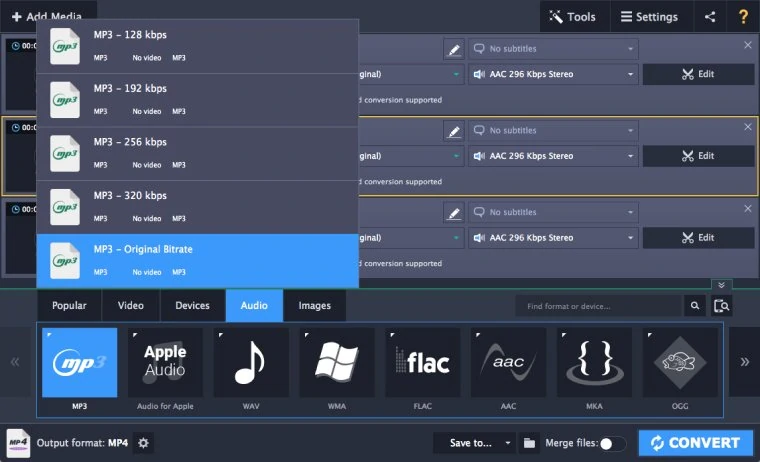 Step 4.

Convert from AAC to MP3

If you want your files to be saved in a specific folder, define the destination directory by clicking the Folder button. Turn on the Merge files switch to join all your tracks together if you wish. Hit Convert to launch the transformation process. Wait while the conversion takes place; the folder you defined earlier will open automatically with your MP3s ready to rock!