Find out more about AVI video compression below:
How to Compress AVI Files Online?
We're all so busy that we don't always have time to watch video content at home. It's often more convenient to have the videos you want to see on your phone or tablet to watch on your way to work. Huge video files are no longer a problem; you can compress a movie, lecture, or interview file and save it to your phone just like that. All you need is the right AVI video compressor.
To reduce the size of a single file, you don't need to download any software. Try this free online service to shrink your video quickly and easily. Follow our short guide to learn how to compress AVI files online.
Add your file from your computer, Dropbox, or Google Drive.
Choose the target format.
Lower your video resolution in the Settings menu. You can also fix audio quality and more.
Click the Convert button.
Your file is too large or you need to handle multiple files at once? See other options we offer!
ONLINE CONVERTER VS. DESKTOP CONVERTER
No charge
Limited file size
40+ input and output media formats
Online Converter – Subscription
Daily or monthly payments
Larger file size
40+ input and output media formats
Online storage
Free trial
Unlimited file size
Batch conversion
180+ input and output media formats
If you want to compress a number of videos, try our desktop SuperSpeed Video Converter. In spite of its name, this app can not only convert files but also reduce their size. Just download the program and follow these instructions.
Step 1.

Launch SuperSpeed Video Converter

Click the downloaded file and follow the on-screen instructions. When the installation process is complete, double-click the icon to launch the program.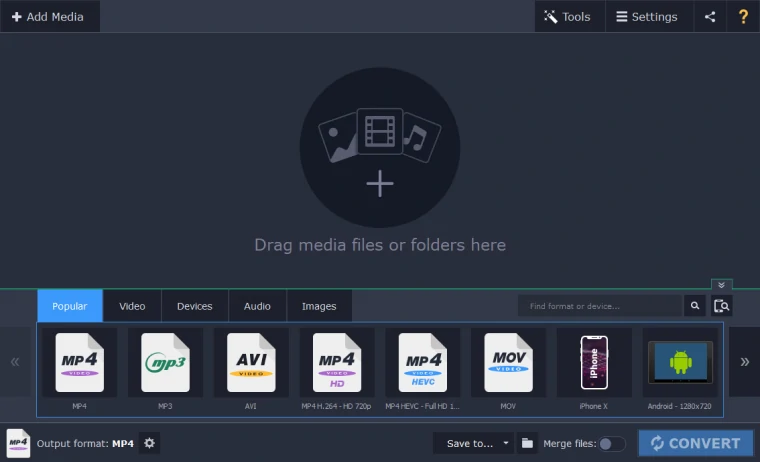 Step 2.

Upload Your Files

Click Add Media and choose Add Video. In the new window, select the videos you want to compress and click Open. Alternatively, you can drag and drop the files into the program window.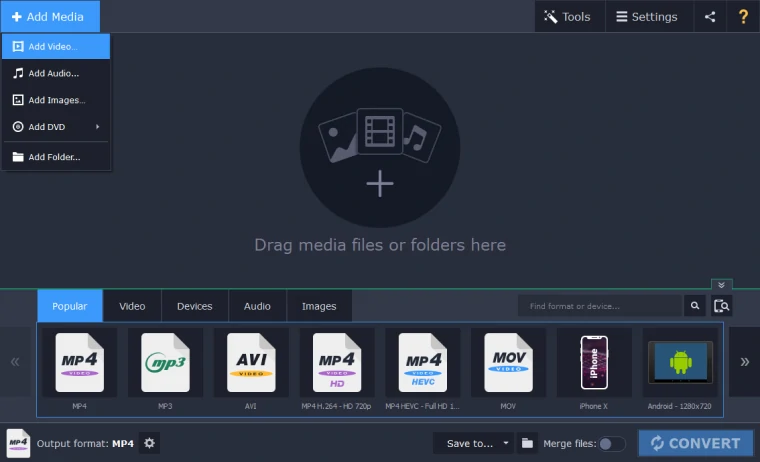 Step 3.

Define the Format and Compression Rate

Go to the Video tab and select the AVI preset group to keep the original format. Then choose the appropriate preset. Note that you can choose a preset with a lower resolution than the initial one to reduce the file size.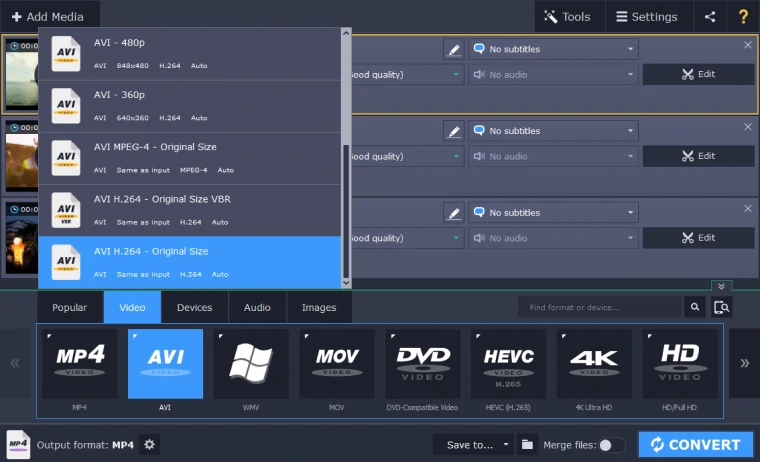 Then, select one of your files and click the estimated size below the output file name. In the new window, move the File size slider to the left until you reach the appropriate file size. Repeat the action with all the files you've added or just click Apply bitrate to all files.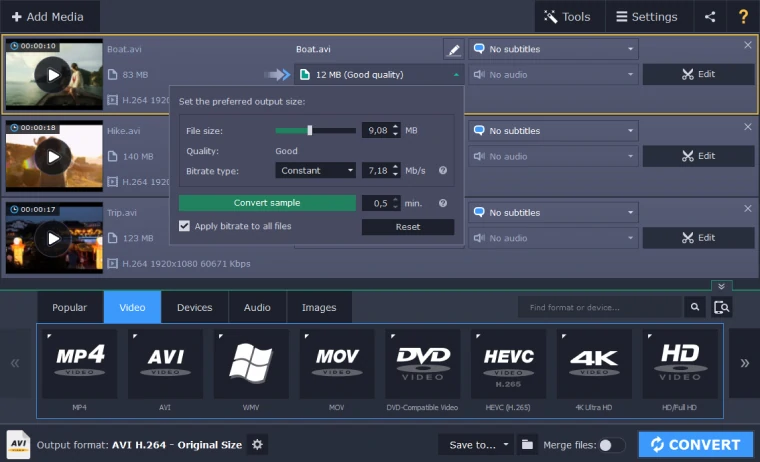 Step 4.

Reduce the Size of the AVI Files

To choose a directory for the compressed files, click the Folder icon and specify the destination. Now click Convert and wait for the files to be compressed. When the compression process is complete, the folder with your files will open automatically.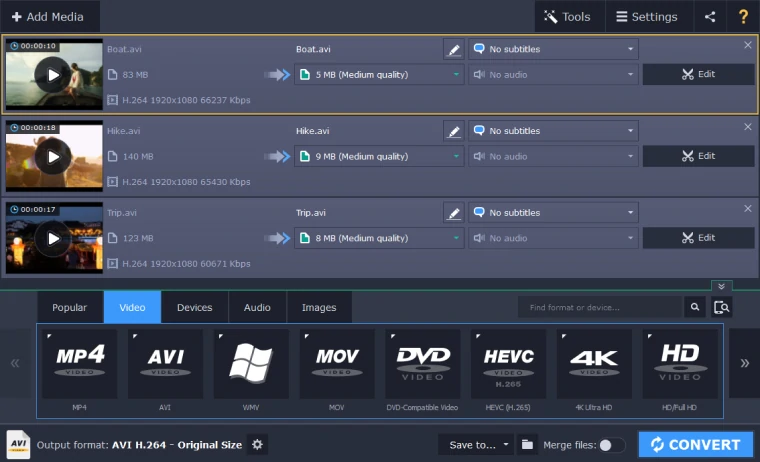 Now you know how to compress videos using an online service or a desktop app. Of course, you can't compress files without losing quality at some level but, using the appropriate software, it's possible to preserve reasonable image quality. It's up to you to decide which method works best for you.